Manufacturers, Where Are You Spending Your Money?
03/28/18
Categories:
Do you ever stop and think about some of the newer technologies that have developed? How many years will it be before drones are everywhere? They are being used by the government and some larger retailers like Amazon are experimenting with them. How long until businesses are incorporating them into their business processes? Drones are just one example of new, really cool technology that is being developed everyday. The reality is that manufacturers are just learning to be technologically savvy, so we are worlds away from taking the leap to drones. So, what should manufacturers be spending their money on?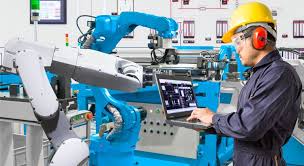 Cloud is the king of manufacturing trends as of current. If your business has not started using cloud applications, you are behind the curve. Most organizations have at least some software applications running in the Cloud. The next 2 years will bring a trend of organizations moving 100% to cloud applications. Cloud should be a top area where you invest your technology dollars.
Another big trend for manufacturing spending is in mobile technologies. Manufacturers have started to rely on daily field reports and other documents that can be accessed on mobile devices. Once you start to adjust to mobile technology, your need for them increases. Manufacturers today use mobile apps "sometimes" at the very least, with hosted or cloud software users even more likely to rely on mobile apps. As you invest more technology dollars into cloud, naturally your need to invest in mobile technologies will also rise.
The days of the manufacturing industry falling behind in leveraging new and emerging technologies relative to other industries might be coming to a close as the tech becomes more affordable and useful than ever. It's an interesting reversal, and one bound to have far-reaching implications on manufacturing companies going forward should the new trend continue. If you need help creating an IT plan and budget on future spending, give 2W Tech a call today. We specialize in solutions for the Manufacturing industry and have IT Consultants on staff that can assist in moving your technology forward.
Read More:
Importance of Continued Epicor Training
Building a Business Case for Business Continuity Whitepaper
Enjoyed reading this article? Click the button below to download this asset.

Building a Business Case for Business Continuity
Please complete the form to download the file.