Microsoft Teams Excelling Against Competition
10/17/18
It's been just over a year since Microsoft introduced Teams to the market. Microsoft's latest entry in the crowded group messaging market continues to evolve. Microsoft launched Teams as its own take on the booming market for group messaging apps led by Slack and now also fought over by Google, Facebook and Cisco, to name but a few. The goal of Microsoft Teams is to connect staff and enhance productivity, providing an alternative to email. Microsoft Teams is their version of open office space. While Microsoft had to play catch up to Slack, it didn't take them long to do so. They quickly positioned Teams as the central hub for communications and collaboration within Office 365.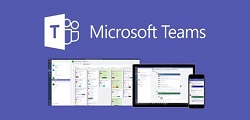 At its most basic level, Teams is a messaging tool that enables text communications between users, whether they are in the same office or work remotely. It supports both group chats, as well as individual conversations. When necessary, users can jump from instant messaging to a video call at the push of a button. There is so much more to Teams then just the messaging tool. It also combines strong content collaboration features, thanks to integration with Microsoft's software portfolio. OneDrive documents can be accessed and edited without leaving the app. Teams makes group file sharing and content collaboration easy
Microsoft Teams works really well with smaller, close-knit groups or with organizations that often team up employees for projects or similar job duties. You are much less likely to lose yourself in a large volume of Teams posts, which also means you will get responses from employees faster through Teams. All of this communication is much easier to manage through Teams as well.
The cloud-hosted software is available via browser, desktop app and mobile app. Teams is available through these Office 365 license plans: Business Essentials, Business Premium, Enterprise E1, E3 and E5. Teams is still a relatively new technology for many business IT users and it requires a bit of a learning curve. 2W Tech is a Microsoft Gold Certified Partner and has Customer Immersion Experts on staff that can work with your users to maximize their Teams experience.
Read More:
Epicor Production Management Report and Module
Microsoft Azure Disaster Recovery Solution
Microsoft Azure Security, Privacy and Compliance
Interested in reading this article? Click the button below to download this asset.

Microsoft Azure Security, Privacy and Compliance
Please complete the form to download the file.