Microsoft Azure Disaster Recovery Solution
10/12/18
Azure is the first public cloud to offer native a Disaster Recovery solution for applications running on IaaS. With this offering, you can make your applications resilient to even regional-level failures by replicating virtual machines (VM) into another region. Along with Availability Sets and Availability Zones, Azure Site Recovery completes the resiliency continuum for applications running on Azure VMs. Microsoft Azure Disaster Recovery solution is based on IaaS applications.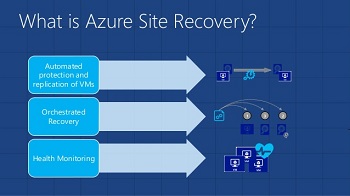 Microsoft Azure Disaster Recovery solution offers many benefits including:
No infrastructure required: You do not need any additional software infrastructure (VMs or appliances) in your Azure subscription to enable this functionality.
User flexibility to select DR region: You can replicate and protect IaaS-based applications running on Azure to a different Azure region of your choice within a geographical cluster.
Best-in-class RPO and RTO: Azure Site Recovery is backed by a 99.9 percent SLA and 24/7 support to keep your enterprise running smoothly.
Simplified experience with automatic DR resource creation: Enabling cross-region DR for an application is simple – all you have to do is select the VMs you want to protect, choose a target Azure region and review replication settings.
Non-disruptive DR drills: With ASR's test failover capability, you can easily perform a DR drill anytime without any impact to the primary production application or to ongoing replication, giving you the confidence that your DR solution will work when you need it.
Orchestrated application recovery: ASR's powerful Recovery Plans allow you to orchestrate the recovery of your entire application so you can meet the strict recovery time requirements that your business demands.
Comprehensive monitoring and troubleshooting: ASR's advanced monitoring capabilities such as the vault dashboard and email notifications let you easily monitor DR health and failover readiness, and troubleshoot any issues quickly.
Comprehensive OS coverage: ASR supports Windows and Linux operating systems. ASR's monthly release cadence ensures the latest Linux OS versions are supported.
In-built compression to reduce network egress: ASR continually replicates data from source region to target region. The in-built compression technology reduces the network egress data by about 40 to 80 percent.
Support for latest Azure features: As a fully integrated offering, ASR is updated with new Azure features as they're released.
Automatic updates: Azure Site Recovery has a monthly release cadence where enhancements to existing features or new ones are added and known issues, if any, are fixed.
Having the power of Microsoft behind your hybrid cloud is invaluable. Now Azure can make sure your applications are safe and sound in the event of a disaster with rigorous safeguards. 2W Tech is a Microsoft Gold Partner and has IT consultants on staff that can guide you through your Azure cloud deployment, if you're not in this hybrid cloud yet, and help you choose the services that are best for you. Contact us today to learn more about the disaster recovery solution for Azure IaaS applications.
Read More:
U.S. Manufacturing is Thriving Despite Shortage of Workers
Epicor's Material Management Reports and Modules
Microsoft Azure Security, Privacy and Compliance
Interested in reading this article? Click the button below to download this asset.

Microsoft Azure Security, Privacy and Compliance
Please complete the form to download the file.