Manufacturing Adoption of IoT
04/18/18
In the age of Industry 4.0 and the digital transformation of manufacturing, the manufacturing industry is leading the charge. Manufacturing is the market where most IIoT projects are executed and by far the most IIoT investments are made. The digital transformation is occurring in every manufacturing business but because the make-up of the industry is so diverse, it is happening differently for all businesses. One consistency in the industry however is the adoption of IoT.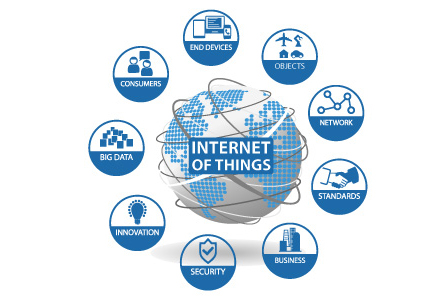 Manufacturing is the center of the IIoT. The manufacturing industry is very active in Industrial IoT although faced with challenges from the manufacturing industry and digital transformation. Consumer spending is causing some concern for Manufacturers, so the push is on for increased efficiencies while decreasing costs. The faster than expected uptake of the Industrial Internet of Things is being driven by: increase agility and reduce waste, bring down costs and enhance efficiencies with manufacturing operations and business processes.
The answer to most problems Manufacturers are facing is DATA. You can not run your business without knowing where all the data is, what it is telling you, and how to act on the data. IoT is allowing all Manufacturers to have all the answers surrounding their data. IoT allows for advanced data analytics, industrial robots and collaborative robots. Many IoT solutions are still basic, but we expect manufacturers to eventually implement more complex technologies, such as autonomous robots and augmented reality (AR) tools.
Investment in the IoT by manufacturers will translate to billions in spending. It is estimated that global manufacturers will invest $70 billion on IoT solutions in 2020. The question is not if IoT, it is when and how. 2W Tech is a full-service Consulting business that employs expert IT Consultants, as well as Epicor Consultants. We have the expertise to help your organization understand how IoT can transform your business and help walk you through the hurdles you will be faced with. Give us a call today to learn more.
Read More:
Epicor's Real-time ERP Analytics
Modern Backup Solutions
Building a Business Case for Business Continuity Whitepaper
Enjoyed reading this article? Click the button below to download this asset.

Building a Business Case for Business Continuity
Please complete the form to download the file.