Epicor's Real-time ERP Analytics
04/17/18
Every business needs to know what it's doing with its operations is paying off in order to make necessary adjustments. Epicor's Real-Time ERP Analytics plays a crucial role in this aspect of your operations, especially when you see major growth on the horizon for your business. One of the benefits of using ERP analytics is the speed at with which a business can manage, track and understand its operations. Having the ability to access real-time information from all departments of your business can help you make quick and informed decisions.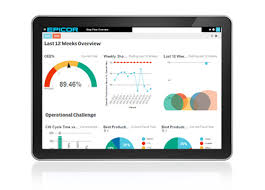 Using analytics in your ERP system also helps your business understand what information is important and what is not. A business accumulates a ton of information. Without a system to pull out  only crucial data, your organization can drown in paper and useless facts. By allowing a sophisticated software program to do this for you, you are increasing the speed at which you can operate effectively.  Companies growing at a rapid pace could be at risk for outgrowing their current infrastructure. If departments are working in silos and not communicating with each other, the departments don't know that they are lagging behind or pushing ahead to quickly. Having even one department that can't keep up with business growth, can cause operations to crash. Using real-time ERP analytics will allow you to access critical data any time you need from anywhere. Implementing IoT or cloud technologies in your organization, and by automating your shop floor, you are taking the necessary steps to ensure all your departments are connected and real-time analytics is possible.
Just like with every software program you implement, you must first evaluate your specific business processes and needs and then determine how to build an ERP analytics strategy that will help achieve that. Epicor has taken steps to give your organization the tools you need to do so, it is now up to you to plan, implement and maximize the use of them within your organization 2W Tech is a certified Epicor ERP partner and has experience with both implementing ERP systems, but also with the project management and training needed to maximize your system once it is installed.
Read More:
Modern Backup Solutions
Microsoft Azure Compute
Best Practices for ERP Success Whitepaper
Enjoyed reading this article? Click the button below to download this asset.

Best Practices for ERP Success Whitepaper
Please complete the form to download the file.