Make the Most of your ERP Reports through the 2W's Epicor Report Store
02/22/19
Epicor ERP software offers plenty of tools that provide ready-made reports for organizations to use instantly. Some organizations may find these generic reports a little too bland, or they may lack important information they need to function. 2W Tech has set up our Epicor Report Store to get you exactly what you need from your investment in Epicor ERP. Our prebuilt customized reports are designed specifically for Epicor ERP systems. All reports include logo placement and installation help. Our Epicor reports include financial management, material management, production management, sales management and customization.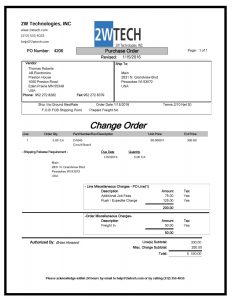 Need something specific or unique? If you can't find what you are looking for, just ask. Let 2W Tech unleash the critical business information sitting in your Epicor ERP. We'll design a custom report to your specifications. We can customize anything to meet your needs.
Here are some of the reports we currently offer:
 

Material Management

: Bill of Lading, Purchase Orders, Late Purchase Order Line Analysis and Daily Shipments

 

Production Management

: Portrait Job Traveler

 

Sales Management

: Customer on Time Delivery, Shipment on Time Delivery, Booked Order Reports and Sales Order Backlog Review

 

Financial Management

: Three Part Check Print, AR Shipped Not Invoiced, Received Not Invoiced, Expense Distribution with Summary and G/L Distribution with Summary
Don't let boilerplate forms keep you from maximizing your ROI in the latest edition of Epicor ERP. Contact 2W Tech today for the latest reports available in our Epicor Report Store, or work with us directly to customize a report that best suits your operations. 2W Tech is a Gold Epicor Partner and has expert Consultants on staff prepared to help you maximize your ERP investment.
Read More:
NIST Keeps Your Company in Creation Mode