How To Leverage Office 365 Collaboration Tools
01/24/18
Most businesses are working toward adopting a digital workspace strategy to enhance collaboration between sets of co-workers. Office 365 has a set of tools that you can leverage for collaboration. These collaboration tools can be used how you want and manage changes in shared documents, whether you're working offline, online, or simultaneously with others. You can work together in real-time and sync files in the cloud to your Windows PC.  Office 365 has excellent productivity tools widely used for enterprise collaboration, content management, and searches, all while touting ease of use. Here are some Office 365 collaboration tools your organization should be leveraging: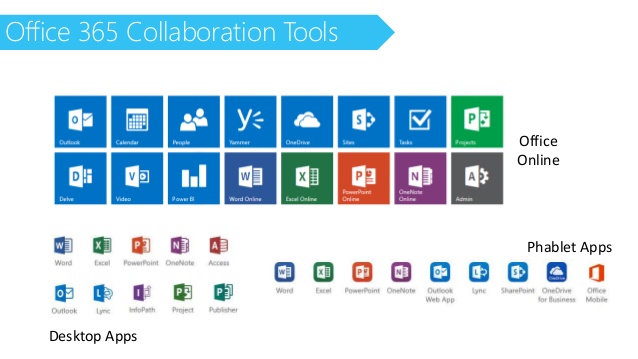 Delve: an employee profile and content discovery for easy collaboration, finding the right person and the right content at the right time.  It acts as a tool to curate all your necessary business content in one place.
PowerBI: a business analytics software providing interactive visualizations with self-service business intelligence capabilities. Allows you to create reports and dashboards without having to depend on information technology staff or database administrator.
Office Online: allows your team to work on presentations in PowerPoint or reports in Excel simultaneously using a mobile app, browser, or desktop-based Office suite. Office Online is version controlled and governed by the very same policies that manage Office 365.
PowerApps: lets you manage organizational data by running an app that you created or that someone else created and shared with you. You can create an infinite variety of apps without having to learning a programming language such as C#.
Flow: a service for automating workflow across the growing number of apps and SaaS services that business users rely on.
OneDrive for Business: provides a place in the Cloud where you store, share, and sync your work files. You can update and share your files from any device with OneDrive for Business.
Video: simply put, it's like YouTube but for business.  It is a new, dynamic video portal available to Office 365 customers that enables easy uploading, sharing, and playback of video messages securely throughout your company.
Calendar: this app allows you to create and track appointments and meetings. You can create multiple calendars, link to other people's calendars, and even share your calendar with others in your organization.
Planner: a work management tool that teams can use to create new plans; organize, assign and collaborate on tasks; set due dates; update statuses and share files, while visual dashboards and email notifications keep everyone informed on progress.
Exchange: feature rich, business class email for your tablets, desktops, phones, and web.
Skype: instant chat feature for business
Teams: chat-based workspace that integrates chats and connect together.
Yammer:  leverages Office 365 groups, Delve, and seamless Office suite integration to effectively collaborate with internal and external stakeholders.
Groups:  this collaboration feature is used for communication, coordinating group efforts and sharing information by providing members access to a shared inbox, calendar, and file repository.
From home to business, from desktop to web and the devices in between, Office delivers the collaboration tools to get work done. Contact 2W Tech today if you are interested in learning more about Office 365.
Read More:
Dangers of Running a Legacy ERP System
Getting Compliant Starts With a Network Audit
Top 6 Technologies SMB Manufacturers Can't Afford to Ignore Whitepaper
Enjoyed reading this article? Click the button below to download this asset.

Top 6 Technologies SMB Manufacturers Can't Afford to Ignore Whitepaper
Please complete the form to download the file.