Epicor ERP Keeps You Prepared for the Future
09/12/18
The key to long-term success for any business is being able to handle whatever changes your marketplace throws at you at any given time. It's impossible to completely predict the future, of course, but Epicor ERP helps you navigate the new waves as they approach your organization. Growing a business in a market that is constantly being disrupted by external factors is never going to be simple, but it is possible. You can start by putting systems into place that will help your business more alert to external factors and be able to react to these factors where necessary.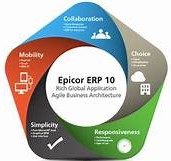 One of the many benefits of Epicor ERP is that the system provides continuous innovations to enable your organization's success. Epicor provides a technology platform for innovation and growth to support your business today and into the future. Through Epicor ERP, you are able to tap into modern technologies as they become mainstream. The system also allows for greater and easier connections and extensiveness with open architecture.. Epicor also lets you go beyond performance and efficiency with technologies to enhance ease of everything.
Epicor ERP's future-proof ways are especially important for mid-sized businesses. Along with staying on top of technology initiatives, Epicor ERP helps organizations of this size build a more data-drive enterprise; raise the bar for quality and compliance; improve cross-functional communication, collaboration and change management; and get better visibility into business processes and supply chain. With Epicor ERP, you also can make the most of the latest analytic technologies to monitor internal data faster. Use this information to establish patterns in customer and competitor behavior, trends or even in oil prices or economic changes. This information makes it possible to detect trends and spot anomalies.
You can integrate your ERP system with business processes up and down your supply chain, as well This will give you the agility and flexibility to change course and action mid-plan, implement new designs that meet consumer demands or switch focus to emerging markets instead of old, failing ones. Don't let the future pass you by not preparing for it. Epicor's ERP system can help you stay up to date at the speed of business. Contact 2W Tech, an Epicor Certified partner, for assistance with your Epicor ERP system, or to help get you set up with one.
Read More:
Next Generation Security on the Rise
Importance of Technology Upgrades in GDPR Compliance
Truly Consistent Hybrid Cloud with Azure
Intrested in reading this article? Click the button below to download this asset.

Truly Consistent Hybrid Cloud with Azure
Please complete the form to download the file.