What Do You Know About RMM Tools?
03/07/18
Many organizations in the last 5-10 years have turned to outsourcing their technology needs to an MSP (managed service provider). When selecting a technology partner to work with, most businesses usually select based on products and skill set offered, as well as cohesiveness with this partner. Too often, the conversation doesn't happen where organizations ask questions or are offered an explanation on the value of the tools they use. RMM tools, which have been prominently used in the last few years, are the behind scenes tools that make or break the success of the MSP.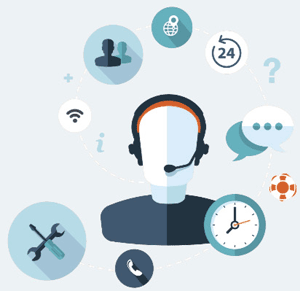 RMM software is an enterprise-level tool that brings the robust technology management capabilities to a business regardless of their size. This tool offers a way to keep track of all computers, automate basic maintenance functions, and facilitate efficient support. RMM tools give all businesses, regardless of size, access to and benefit from these types of enterprise-grade tools, which is why you need to ask the right questions to an MSP prior to allowing them to be in charge of your technology.
A primary function offered by RMM tools is the monitoring of the health of your network and all the devices connected to it, including servers, desktops, laptops, firewalls, wireless access points, and more. It automatically alerts your MSP if it detects any issues with your systems, such as low disk space, high RAM or CPU usage, or internet service outages. This allows for your MSP to offer proactive maintenance, since it gives them a heads up on common issues, therefore reducing downtime and the resulting cost in lost productivity. Most maintenance items can be handled by the RMM tools, offering a bonus security feature.
The number one feature of RMM tools that make MSPs look like rockstars, is the remote maintenance capabilities. When a client calls in for help, a Consultant can use an RMM to access the user's computer remotely and address the issue, without having to come onsite. While some issues are still more efficiently handled onsite, the remote capabilities of RMMs do facilitate faster service with easy or time sensitive issues, and they further cut down on cost for both MSP and client.
RMM tools have many more features then just the ones listed above. But, it is not only important to understand all the features and functionalities, but which of those the MSP actually uses. 2W Tech is a full-service MSP and IT Consultant and would be happy to discuss our RMM tools and different service level agreements. Give us a call today to learn more.
Read More:
Signs You Need to Upgrade Your ERP System
Key Elements for Your Backup and Disaster Recovery Solution
Finding Success in the Cloud
Enjoyed reading this article? Click the button below to download this asset.

Finding Success in the Cloud
Please complete the form to download the file.