Key Elements For Your Backup And Disaster Recovery Solution
02/28/18
If someone is speaking about backup solutions and your mind immediately goes to those manual tape backups you perform occasionally, you probably want to pay close attention to this blog. Backup and Disaster Recovery solutions are continually evolving and maturing to protect against the latest attacks on organizations. It's no longer enough just to have local protection, it's important to have a secondary site that is safeguarding your data and applications. With all the solutions on the market now, the best option for a business is a hybrid cloud solution. This type of solution provides businesses the ability to protect their IT environment locally and in the cloud. With just like every other cloud solution, updates to the solution occur automatically ensuring you are running the latest version of the software.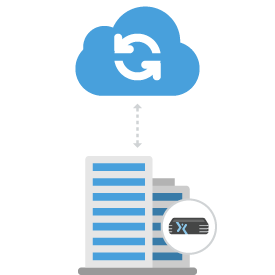 The best solution to look for is one that offers data protection and recovery in one integrated solution. These type of solutions take a snapshot image of your physical and virtual servers, laptops and workstations. It then saves a copy of that image in the local appliance and securely encrypts the data in transit and it rests in data centers. Whether you need to recover files, emails, databases or an entire server image you can select your recovery point from just a few minutes ago to days, weeks or months ago. Plus, in case you need to fail-over a server, you can select a specific point-in-time image snapshot to fail-over from.
2W Tech relies on an Axcient backup and disaster recovery solution for our clients. This solution mirrors your entire IT infrastructure in the cloud and acts as your replicated data center on-demand. By leveraging the latest cloud computing technologies, it gives you the power to replicate and protect your applications, virtualize critical workloads and tackle non-production use cases like testing and development with one simple interface. Choosing the best backup and disaster recovery solutions can be challenging and many organizations piece together various solutions to try to create one comprehensive solution. Why try to maintain and integrate several solutions, when you can choose 1 that handles everything. Give 2W Tech a call today to ensure you are running the best backup and disaster recovery solution for your business.
Read More:
Increase Profitability with Epicor ERP Software
System and Organizational Controls (SOC) Reporting
7 Steps to a Holistic Security Strategy
Interested in reading this article? Click the button below to download this asset.

7 Steps to a Holistic Security Strategy
Please complete the form to download the file.