OneDrive for Business
12/26/18
If you are anything like me, you fall into the trap of saving important documents and pictures directly to your computer or device. Then, your whole world falls apart when your device fails, and you lose everything you have been working so hard on. Depending on your position within your company, this could be a big blow for your business that they may never recover from. OneDrive connects you to all your files in Office 365, so you can share and work together from anywhere while protecting your work. If businesses are not using OneDrive for Business, they are risking an awful lot.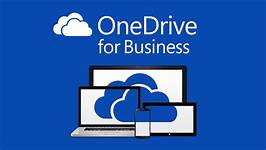 Easily store, access and discover your personal and shared work files in Office 365, including Microsoft Teams, from all your devices. Edits you make offline are automatically uploaded next time you connect. Work faster and smarter with anyone inside or outside your organization. Securely share files and work together in real-time using Word, Excel and PowerPoint across web, mobile and desktop. Create, view, edit, and share files on the go with the OneDrive mobile app. Easily capture whiteboards and scan work receipts, business cards, and other paper documents for safe keeping.
OneDrive helps protect your files. You can easily recover files from accidental deletes or malicious attacks and administrators can manage security policies to help keep your information safe. Gartner has recognized Microsoft OneDrive, for the second year in a row, as a leader in the Content Collaboration Platforms Magic Quadrant report. If your business is not yet utilizing OneDrive for Business, give us a call today to get started. 2W Tech is a Microsoft Gold Partner and has experts on staff in Office 365 solutions.
Read More:
Latest Edition of Epicor Serves Manufacturer Dealer Network
Microsoft Azure Adds Machine Learning Service