Latest Edition of Epicor Serves Manufacturer Dealer Network
12/20/18
As the world of commerce continues to work its way to an all-digital business model, manufacturers and dealers need a way to meet the increased demand for speed and service. Epicor has addressed these needs in its upcoming release of Epicor ERP 10.2.300, including the launch of Epicor Dealer Network Portal and the availability of the Epicor Kinetic Design Framework. Today, dealers face the same rising customer expectations as retailers, driven by technology innovations and modern eCommerce. Sales and service dealers are under new pressure to meet higher customer expectations for easy self-service, personalized offers, rapid and convenient delivery, high quality, and transparency throughout the buying process.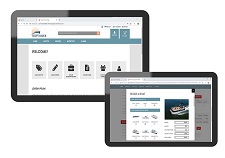 The Epicor Dealer Network Portal is specifically designed for manufacturers who sell or service their products through dealers, to more easily quote orders, manage sales, track inventories, manage warranties and recalls, and provides dealer self-service to their account history — all from their ERP system. The solution enables customers to create a single, online website to automate and streamline their dealer activity.
The latest version of Epicor ERP 10.2.300 is designed to help manufacturers differentiate their brand to stand out by being the first one that utilizes the Epicor Kinetic Design Framework. The Epicor Kinetic Design Framework is design-focused, strategic initiative to improve the customer's experience with Epicor's software applications. With the introduction of the enhanced Home Page developed in the Kinetic framework, customers can create a personal layout and then switch it with another published layout or move from tab to tab for additional views, which support faster, more informed decisions through much greater visibility into their business at a glance.
To help customers take advantage of the new features, Epicor University is now offering a cloud-hosting option for ERP application help, as well as education courses with help search being powered by Microsoft Azure. These are designed to help remove the burden from your IT staff to maintain their own help or education environments. Contextual video help will be available for several new functions of Epicor ERP, such as AP invoice entry, job entry, job tracker, purchase order entry and customer maintenance. Epicor ERP 10.2.300 was released for general availability in October of this year. Whether you have upgraded to the new edition or are still waiting, 2W Tech, an Epicor Gold Partner, can help guide you through your learning curve with the latest features. Contact us today.
Read More:
Microsoft Azure Adds Machine Learning Service
Survey Says: Most SMEs Still Confused about GDPR
Truly Consistent Hybrid Cloud with Azure
Interested in reading this article? Click the button below to download this asset.

Truly Consistent Hybrid Cloud with Azure
Please complete the form to download the file.