Office 365 Exchange Server Provides Business-Class Email Solution
06/28/18
Considering email is most likely your company's most prevalent form of communication, you don't want to put this responsibility in the hands of any provider out there. You want – and need – the best application possible. Enter Microsoft Office 365 Exchange solution. Exchange allows you to work smarter with business-class email and calendaring. The app helps users collaborate on your critical documents and gives you a focused inbox that prioritizes important messages and adapts to your work style, so you can get more done faster.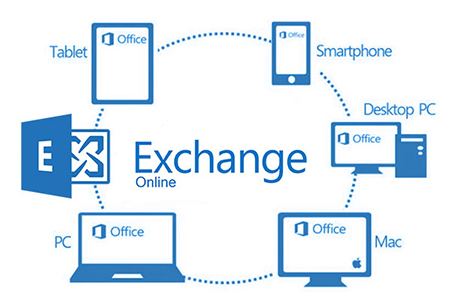 Office 365 syncs emails, calendars and contact information across your devices in real time, so it's up to date no matter what device you're using. Scheduling is easy and hassle-free anywhere, and if you lose your phone, you can wipe it remotely to keep your personal information secure. Your emails are more distinctive when you create a custom format, include images and use your own domain name. You can do all three with Office 365. You can also send messages as big as 150 MB, and with 100 GB of storage, keep all the email you want, even with custom formats and images.
Office 365 gives you a simplified admin center that lets you set up new user emails, restore deleted accounts, create custom scripts and more from anywhere. You also get anti-malware protection and anti-spam filtering to guard against email threats. Through Exchange, you can create an "intelligent inbox" to help you better prioritize your tasks. Search enhancements give you faster and more complete results. With Add-ins, get powerful customization and extensibility, which connect you to modern services and internal line-of-business applications.
You can also better organize your time with a calendaring system that goes beyond basic scheduling of appointments and commitments. Automatically capture events from email such as flights and hotel reservations, and get suggestions about where to meet based on your location. Microsoft can help you make the best use out of its Exchange server with its Microsoft Exchange Server Deployment Assistant. This web-based tool asks you a few questions about your current environment and then generates a custom step-by-step checklist that will help you deploy different versions of the Exchange Server for different types of scenarios. 2W Tech is a Gold Level Certified Microsoft Partner and has consultants on staff that specialize in Office 365 solutions, including the Exchange Server. If you are interested in learning more about Exchange, contact us today.
Read More:
Manufacturing's Digital Transformation
Epicor Responds to Demand for GRC Software
Security Management in Microsoft Azure
Interested in reading this article? Click the button below to download this asset.

Security Management in Microsoft Azure
Please complete the form to download the file.