Epicor Responds to Demand for GRC Software
06/26/18
Today's business landscape is littered with more regulations and mandates throughout the global marketplace than ever before. This minefield makes compliance more vital than ever for successful businesses. Epicor has responded to this demand with its GRC (governance risk and compliance) software solutions. Epicor makes every effort to ensure that any new functionality is consistent with published international standards and best practices. These include published standards in corporate and financial governance such as international accounting standards (IAS), international financial reporting standards (IFRS) and other generally accepted accounting principles (GAAP) while also incorporating support for international trade standards such as restriction of the use of certain hazardous substances in electrical and electronic equipment (RoHS), Waste Electrical and Electronic Equipment (WEEE) directive, and the North American Free Trade Agreement (NAFTA).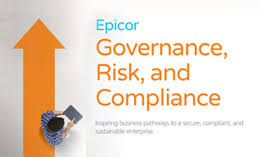 Epicor's GRC software solutions include:
Built-in application-level risk mitigation tools and business process management (BPM);
Greater business insight through enterprise performance management (EPM);
Comprehensive design to retire product lifecycle management (PLM), and sophisticated document management for organizations that need excellent audit tracking and control of documentation across the enterprise, including support for RoHS;
Advanced quality management (AQM) to provide audit trail visibility of inventory transactions occurring in inspection and during discrepant material report (DMR) processing, and to manage compliance documentation such as Certificates of Analysis (COA), Certificates of Quality (COQ), or Certificates of Compliance;
Advanced user, role and group security to establish segregation of duties and restrict data and application accessibility as needed – with security against all objects including forms, fields, reports, menus and method calls;
Lean supply chain management and global trade compliance including definition of global trade standards for items and bar codes, such as UPC UCC-12, EAN UCC-13, EAN UCC-8 and GTIN-14;
Encompassing financial management including financial controls, transparent and proactive reporting, and audit and security management;
Supplier Relationship Management including strategic sourcing; and
Mattec MES offers Energy Monitoring of business assets to understand energy consumption and reduce cost.
GRC is an ongoing process that will require companies to utilize internal resources alongside external experts to ensure they meet regulatory demands. 2W Tech employs the very experts you need to make sure your operations maintain compliance. We also can set you up with an Epicor ERP system that will keep you out of the crosshairs of the regulatory agencies. Contact us today for assistance with your GRC.
Read More:
How Your Business Can Benefit From Axcient Fusion 
Azure Resources Provide Safety for Cloud Computing
Microsoft Azure Security, Privacy and Compliance
Interested in reading this article? Click the button below to download this asset.

Microsoft Azure Security, Privacy and Compliance
Please complete the form to download the file.