Microsoft Office 365 Workplace Analytics
02/07/18
Workplace Analytics leverages Office 365 collaboration data to deliver powerful new insights for enterprise productivity. It allows organizations to understand collaboration patterns across the business that influence productivity and employee engagement.  You can analyze how your organization spends time and collaborates internally and externally with unprecedented insights from Office 365. Workplace Analytics gives business leaders dozens of actionable behavioral metrics about time and networks to inform a variety of strategic decisions, including teaming models, resource allocation, and work space planning.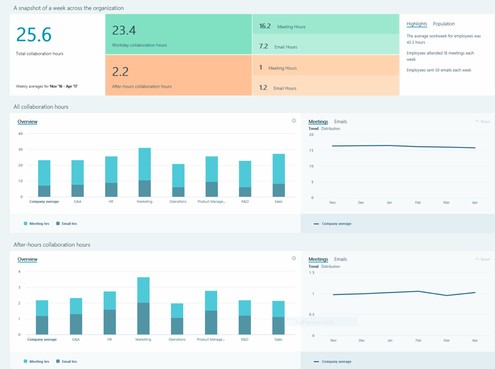 Workplace Analytics provides a rich set of objective data to make better business decisions. Structured dashboards are set up to display potential problem areas.  You are also able to setup flexible queries that can answer targeted business questions about hiring strategies, new organizational structures, and business programs. Augment Office 365 data with business outcome information to establish best practices, predictive models, and benchmarks. The data outputted can be used to make necessary business process changes based on behavioral data.
An important feature needed in today's world are the privacy controls offered that meet your needs with compliance obligations. Customers decide which populations to analyze and they get to maintain control over data aggregation standards. Workplace Analytics only analyzes Office 365 metadata. Data viewability and aggregation levels are based on role and customer preferences.
2W Tech is a Certified Microsoft Partner and has Consultants on staff that specialize in Office 365 solutions. If you are interested in learning more about Workplace analytics, give us a call today.
Read More:
Dashboards for Epicor: Your Business at a Glance
Why Corporate Compliance is Important
Building a Business Case for Business Continuity Whitepaper
Enjoyed reading this article? Click the button below to download this asset.

Building a Business Case for Business Continuity
Please complete the form to download the file.