Microsoft Office 365 Teams Makes the Dream Work
08/30/18
With the proliferation of social media networks, email options, device capabilities and flexible working arrangements, it is getting more difficult to communicate with your employees all at once. Microsoft Office 365 has addressed this issue with the launch of its Teams communication suite of applications. Microsoft Office 365 Teams is a complete chat and online meetings solution. You can host audio, video and web conferences, and chat with anyone inside or outside your organization. You can also get features like scheduling assistance, note taking, desktop sharing, uploading files and chat messaging.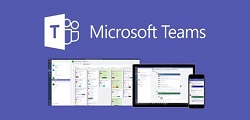 Skype Meeting Broadcast: host webinars, all-hands meetings and other one-to-many presentations with up to 10,000 attendees internal or external to your organization. You can extend Microsoft Teams with one-touch join to every meeting space with Microsoft Surface Hub and Skype Room Systems from Microsoft partners Logitech, Crestron, Polycom, Lenovo and HP. Microsoft Teams will be supported by a spectrum of calling and meeting room devices to enhance your experience in your office, in a conference room or on the go. Recently announced Microsoft Teams-powered desk and conference room phones delivered by Microsoft's partners bring new benefits to calling with Teams with a range of high-quality, cost-effective and purpose-built phones for customers of all sizes.
BlueJeans, Pexip and Polycom are delivering cloud video interoperability solutions that seamlessly connect H.323 compatible video conferencing devices to Microsoft Team meetings. You can also join meetings from a phone or use Microsoft Teams to dial anybody directly. Meetings include a dial-in number spanning over 400 cities across the globe, making it easier for people on the go or without Internet. Microsoft Office 365's Teams is the ideal solution to keep your employees and customers up to speed regarding your operations. Let us help you utilize this application. 2W Tech is a Microsoft Gold Certified Partner and has Consultants on staff that specialize in Office 365 solutions, including Teams. If you are interested in learning more about Teams, contact us today.
Read More:
Industry 4.0 Institutionalizes Intellectual Property
Improve Performance with Epicor Productivity Pyramid
Profitable Growth in Manufacturing
Enjoyed reading this article? Click the button below to download this asset.

Profitable Growth in Manufacturing Whitepaper
Please complete the form to download the file.