Improve Performance with Epicor Productivity Pyramid
08/28/18
Even the most efficient companies are constantly searching for ways to improve productivity. Epicor has developed a "Productivity Pyramid" to ensure all facets of your organization work together seamlessly, keeping your production on the rise when you need it most. The Epicor Productivity Pyramid is comprised of three complementary solutions built to leverage Epicor service-oriented architecture (SOA) and to bring people, processes and applications closer together, increasing efficiency and collaboration. Each component of the Productivity Pyramid works together to extend the value of the investment customers make in enterprise business software.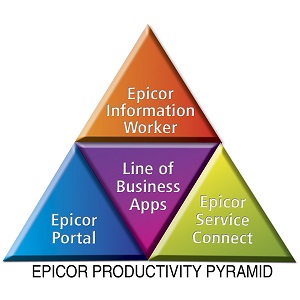 Epicor Portal provides secure access and easy to use data visualization to allow users to intuitively create data views without any knowledge of the underlying database or querying language. Epicor Portal views can be published to Microsoft SharePoint for use by any qualified user, empowering information workers and other stakeholders to build and share business data and events. In addition to providing secure data access, ease of use, improved collaboration and increased productivity, Epicor Portal views provide the foundation for Epicor Information Worker.
Epicor Information Worker enables users to access data from any number of enterprise applications while remaining within their current Microsoft Office work context. ERP data may be viewed directly in Microsoft Office where it can be worked with offline and changes synchronized when back online. Epicor Information Worker keeps users connected to the data need when they need it, enabling them to make quicker, more informed decisions.
Epicor Service Connect allows users to automate tasks and streamline processes to promote efficiency across the supply and demand chains. Employees can focus on value-added activities and management by exception instead of repetitive data entry tasks. Both Epicor Information Worker and Epicor Portal utilize the integration of Epicor Service Connect to allow business users to update or add new ERP records without having to open the ERP application itself. As an Epicor Certified partner, 2W Tech employs the experts that can help you improve productivity through Epicor ERP. We can also implement your Epicor ERP system if you're not already using one. Contact us today for assistance with your Epicor journey.
Read More: 
GDPR Compliance Lagging Behind
Increase Your Security With Azure Sphere
Economics of Serverless Cloud Computing
Interested in reading this article? Click the button below to download this asset.

Economics of Serverless Cloud Computing
Please complete the form to download the file.