Increase Your Security with Azure Sphere
08/23/18
You can have the best products and services available in your market, but your entire operation could be derailed by even the possibility of a cybersecurity breach. Microsoft's hybrid cloud system, Azure, has a solution to defend your operations from such chaos. Azure Sphere's holistic approach to security is based on years of Microsoft experience and research. Together, Azure Sphere crossover MCUs, its secured OS and turnkey cloud security service guard every Azure Sphere device, delivering end-to-end security that responds to emerging threats so you don't have to. Azure Sphere's three-part solution brings together the best of Microsoft's expertise in cloud, software and hardware, resulting in a unique approach to security that starts in the silicon and extends to the cloud.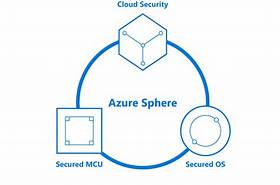 Part 1 is through Secured MCU. Azure Sphere MCUs are a new crossover class of MCU with built-in Microsoft security technology, connectivity and the headroom to support dynamic new experiences. The Pluton Security Subsystem creates a hardware root of trust, stores private keys and executes complex cryptographic operations. A new crossover MCU combines the versatility and power of a Cortex-A processor with the low overhead and real-time guarantees of a Cortex-M class processor. Built-in network connectivity provides secured, reliable, online experiences and ensures devices are up to date.
Part 2 entails Secured OS. The Azure Sphere OS is a highly secured OS from Microsoft that creates a trustworthy, defense in depth platform for new IoT experiences. The secured application containers compartmentalize code for agility, robustness and security. On-chip connectivity services secure your connection to the cloud and provide access to the Azure Sphere Security Service. A custom Linux kernel enables silicon diversity and innovation. A security monitor guards integrity and access to critical resources.
Part 3 relies on Cloud Security. The Azure Sphere Security Service is a turnkey service that guards every Azure Sphere device through renewing security, identifying emerging threats, and brokering trust between device, cloud and other endpoints. This protects your devices and customers with certificate-based authentication of all communication. The service also guarantees a devices authenticity and ensures it runs only your genuine software. It provides insight into device and application failures and visibility into emerging security threats, and responds to threats with automated updates of the Azure Sphere OS.
Azure Sphere brings the promise of a secured connected future to MCU devices everywhere. Azure Sphere MCUs deliver unmatched computing power and built-in connectivity that pave the way for next generation experiences. With Azure Sphere, you can reimagine everything from business models to product experience. Let 2W Tech show you how Microsoft Azure Sphere can boost your security. We are a Microsoft Gold Partner, and we have IT consultants on staff who are Microsoft Certified experts who can guide you through your Azure cloud deployment – if you're not in this hybrid cloud yet – and help you choose the services that are best for you. Contact us today.
Read More:
Integrating Data into Your Workflows
Epicor ERP Helps You Achieve Profitability
Economics of Serverless Cloud Computing
Interested in reading this article? Click the button below to download this asset.

Economics of Serverless Cloud Computing
Please complete the form to download the file.