Information Technology and Operational Technology Collaboration
06/13/18
The more familiar we get with the Internet of Things (IoT) technology, the more clear that the data IoT applications generate will be important to businesses. This has shown benefits for both operations and maintenance, as well as actual revenue-generating activities. Ensuring availability of that data will become crucial and will require organizations to rethink the way operational technology (OT) groups interact with their information technology (IT) counterparts. Businesses need to protect their data and ensure it is reliably delivered to the systems that will turn it into valuable insights.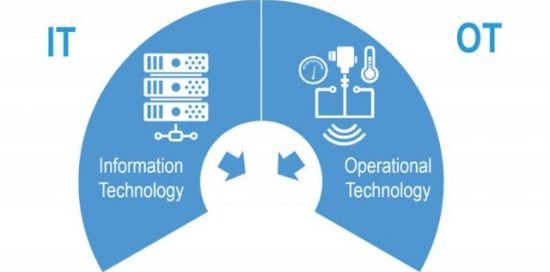 Information technology and operation technology professionals have very different functions and share more differences than similarities. If manufacturers want to maximize the potential that IoT can bring to their business, these 2 functions need to learn to collaborate effectively. The issue gets complicated because the data is often being generated far from the data centers and business offices that are usually not within the jurisdiction of the IT department. Instead it's from manufacturing plant floors, warehouses, etc.  Sensors are installed on various types of manufacturing equipment and devices, turning them into a main IoT data source.
Operational technology groups are skilled in the maintenance of the machines and devices which fall under their responsibility. They are inexperienced with servers and networks used to collect and store data, that is instead the IT departments role. What businesses are running into is the need for OT and IT professionals to work together to share the necessary data. The alternative is to have to add OT staff to the IT area, and vice versa. Which, is a very expensive alternative. A business needs to re-evaluate their infrastructure to ensure the reliability of the IoT networks.
To ensure collaboration of OT and IT, you need to establish business processes and procedures and determine how IT and OT play a role in these. It is important to determine who is responsible for managing which components. If you need help managing your IoT environment and ensuring its reliability, give 2W Tech a call today. We can help you create a business plan for marrying your OT and IT functions together.
Read More:
Get a Grip on Your Supply Chain with Epicor ERP
Lack of Data Integrity With Local Backup
The Right Secure Hardware for your IoT Deployment
Enjoyed reading this article? Click the button below to download this asset.

The Right Secure Hardware for your IoT Deployment
Please complete the form to download the file.