Importance of IT Disaster Recovery Planning
07/09/18
Natural disasters have taken over many of the World News topics, whether it's a terrible earthquake in the mountains of rural China, or hurricanes that devastated Puerto Rico and wreaked soggy havoc to other places, such as Texas and Florida, or flooding and mudslide destruction in California. Thus, as more areas of the world continue to be decimated by extreme events, many fueled by climate change, it is important that organizations take note and ensure their businesses are protected from disasters. In many of these areas, the news foremost discusses human life and resources needed for survival. What is often not discussed in the news, is the amount of businesses lost by these disasters, and how many businesses, even thousands of miles away, can be affected as well. Disaster Recovery has taken on a whole new meaning in the last few years, but IT disaster recovery planning has never been so important to business survival.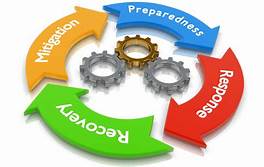 IT disaster recovery planning is important because it allows for your business to plan ahead, which could be the ultimate key to your survival. Cloud backup and disaster recovery solutions allow you to backup your data to multiple locations, so if your location is physically hit with a natural disaster or outage, your data is accessible and safe somewhere else. One of the most dangerous decisions your business can make is choosing to backup your data only locally and in 1 location. I get that it is overwhelming to know what all you need to consider when conducting your IT disaster planning, so here is a simple checklist your business can follow:
What components are needed to perform recovery?
What are the industry standards?
What components are included in your current plan?
How does your plan perform when you test it/simulate it?
How do you keep your plan current?
If you are a business creating an IT disaster recovery plan for the first time or dusting off a plan that has been underutilized, do not expect perfection with every component of your plan, including the results of your simulations and tests. That is an unrealistic bar to pass and typically encourages your team to take shortcuts or even mask certain results to create a false perception of readiness. You want the unvarnished truth so you can identify your vulnerabilities and tighten up your plan before a disaster strikes. For help with your IT disaster recovery planning , give 2W Tech a call today. We have expert IT Consultants on staff that specialize in Security solutions.
Read More:
Stay Connected to the Cloud with Azure Stack
Manage Your Customer Relationships with Epicor CRM
The Right Secure Hardware for your IoT Deployment
Enjoyed reading this article? Click the button below to download this asset.

The Right Secure Hardware for your IoT Deployment
Please complete the form to download the file.