Epicor ERP Provides Growth Opportunities For Businesses
09/04/18
If your business isn't growing, your competition surely is. Make sure you never miss an opportunity to grow your business by utilizing Epicor ERP and everything its applications can accomplish for you. Epicor ERP helps organizations like yours tackle the complex challenges faced by growing manufacturers. Through Epicor ERP, you can reach new markets, expand product lines, and grow your business with deep industry- and country-specific functionality. You also can drive improved customer experience and accelerate the digital transformation of your business. Users also gain agility to respond to new opportunities for growth through business automation, streamlined processes, and elimination of redundancies.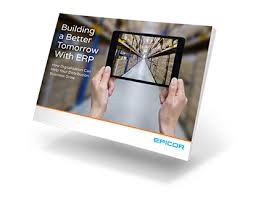 Your human capital needs are of utmost importance when it's time to grow the business. How effectively you engage, align and lead the innovative workforce of tomorrow significantly impacts your long-term competitiveness and growth. You need human resources professionals to focus on strategic initiatives, not low-value, administrative tasks. Epicor Human Capital Management offers a feature-rich human resource management solution you can deploy in the cloud or on premises to comprehensively manager your global workforce from recruitment to retirement, so you can focus on cultivating a culture of growth.
Epicor ERP gives you better opportunities to manage your customer relationships. Epicor's CRM provides the information and control to deliver a world-class customer experience at every touch-point. You can grow your customer-centric strategies while gaining insight with Epicor's next-generation CRM platform. Through Epicor ERP's planning and scheduling software, the forecasting and master production scheduling provide day-to-day control as well as long-range planning for improved lead times and better decision making. This software also offers visual tools focused on resource optimization, capability-based scheduling, material and outside resource availability, and change management.
Business Intelligence and Analytics for Epicor ERP include Predictive Analytics, which helps you prepare for what is on the horizon for your business. You can plan by using demand planning and inventory optimization tools in the Epicor Smart Inventory Planning and Optimization Platform. With Epicor ERP Financial Management, you can grow your business globally with deep, country-specific functionality, and multi-company, multi-book and multi-currency support.
Of course, today's B2B buyers expect 24/7 online access. By integrating Epicor eCommerce with Prophet 21, you can increase sales, reach new customers, and shorten sales cycles for your products and services. If your organization is ready for growth, use Epicor ERP's suite of solutions to nurture this boom in your business. Need more help? Contact 2W Tech, an Epicor Certified partner, for assistance with your Epicor ERP system, or to help get you set up with one.
Read More:
Microsoft Office 365 Teams Makes the Dream Work
Industry 4.0 Institutionalizes Intellectual Property
Economics of Serverless Cloud Computing
Interested in reading this article? Click the button below to download this asset.

Economics of Serverless Cloud Computing
Please complete the form to download the file.