Epicor ERP Planning and Scheduling Solutions Help Business
05/22/18
No matter what type of business you have, your operations require precise and flexible planning and scheduling software. Epicor ERP is designed to handle this aspect of your manufacturing operations' material requirements planning and schedule needs on a local and global scale, as well as single and multiple site businesses. Epicor ERP planning and scheduling solutions include forecasting and master production scheduling, which provide day-to-day control as well as a long-range planning for improved lead times and better decision making.
Manage supply and demand in real time with material requirements planning software capabilities that sync demand requirements coming from customer orders and forecasts to what's happening on the plant floor, in the warehouse or in the field. Robust planning and scheduling software with visual tools are focused on resource optimization, capability-based scheduling, material and outside resource availability, and change management. Project management utilizes detailed estimation, planning, scheduling, costing and supply chain logistics for complete control and analysis of any project.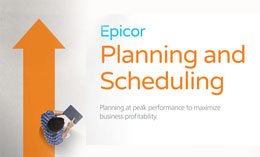 Multi-site management can handle any combination of multiple offices, plants and warehouse sites, or companies. Epicor production planning software offers a complete set of tools to maximize utilization of resources for optimum scheduling, performance and profitability. Another scheduling item that is helpful is the ability to handle several scheduling obligations remotely from a single area of the system. This function provides visual tools that focus on resource optimization, capability based scheduling, resource and change management.
Epicor 10 also allows cloud access to the schedule, which is extremely helpful for management. Scheduling in the cloud provides a safety net with availability with compliance and disaster recovery issues. If you run into a compliance issue or a natural disaster at one location, you can reconfigure machine tooling criteria in another location in a matter of minutes. Innovative companies have realized this version of Epicor protects your operations from downtime and ultimately helps your bottom line.
Epicor ERP 10 is largely known for its advanced materials planning suite. It allows users to handle a combination of scheduling obligations remotely from a single area of the system. Epicor 10 scheduling also gives managers the ability to access their information in the cloud. Manufacturing companies need flexible planning and scheduling. Epicor 10 has an advanced materials planning suite which is helpful to companies who want to improve their lead time. This functionality is handy for organizations that do special orders, made-to-order, seasonal orders, or are involved with private label products.
Planning and scheduling can be the most important aspect of a company's operations, and Epicor ERP has invaluable solutions for this process. 2W Tech is a certified Epicor ERP partner and employs experts in ERP implementation and maintenance. Contact us today for help with your planning and scheduling solutions through ERP.
Read More:
Requirements to Achieve Data Integrity
Simplify Your IT Infrastructure with Azure SQL Database
Best Practices for ERP Success Whitepaper
Enjoyed reading this article? Click the button below to download this asset.

Best Practices for ERP Success Whitepaper
Please complete the form to download the file.