Epicor Commerce Connect Makes Your Vision a Reality
08/14/18
Your business is no longer limited to your city, state, or even your region. By going online, your geographic reach is worldwide. Epicor Commerce Connect can bring your goods and services to buyer throughout the world. Epicor Commerce Connect is a comprehensive e-commerce solution that is tightly integrated with Epicor ERP to promote manufacturers' and distributors' online business growth. With consumer-like ease of use and deep functionality, you can offer business customer access to special pricing and price lists, fast repurchase, and make payments on accounts. For B2C clients, you can offer the information-rich features that consumer expect, like powerful search functionality, product comparisons, guest and account logins, and payment options.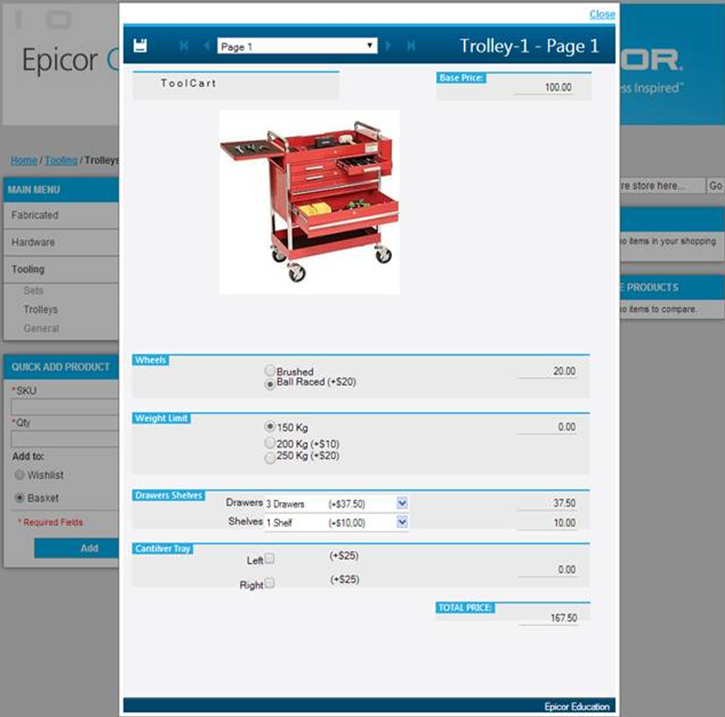 Through Epicor Commerce Connect, you can create compelling storefronts, launch an attractive, simple-to-use e-commerce site with your own branding in less time. You and your customers also can access the site from any device. Your website is also fully responsive, adapting beautifully to any screen size. With real-time stock levels, your customers can see inventory availability and choose whether or not to allow transactions when there is insufficient stock. Special pricing allows you to extend your pricing strategies to your online channel with unique pricing by customer, contractor or product list.
Epicor Commerce Connect helps you encourage repeat orders and manage returns by offering customers personalized access to their quotes, order history, invoices, and shipping details. You also can empower digital commerce worldwide with multilingual, multi-currency and multi-storefront support. Your organization can create collections of products to sell by location or restrict purchases per availability, compliance, bundle requirements or other factors. You also can allow your sales professionals to act on behalf of their customers to order online if needed.
Use Epicor Commerce Connect to improve your search rankings to drive traffic and capture more customers. The tool's site analytics help you gain insight into visitor and buyer activity to improve revenue growth. Instead of managing disparate databases, Epicor Commerce Connect integrates with P21 and Eclipse so you can use your existing product data for e-commerce. As an Epicor Certified partner, 2W Tech employs the experts you need implement Epicor Commerce Connect e-commerce solution. We can also implement your Epicor ERP system if you're not already using one. Contact us today for assistance with your Epicor journey.
Read more:
How to Maintain IT Compliance Documentation
Azure Blob Storage Lifecycle Management Moves Your Data For You
Total Economic Impact of Microsoft Azure IaaS
Interested in reading this article? Click the button below to download this asset.

Total Economic Impact of Microsoft Azure IaaS
Please complete the form to download the file.