Common Disasters that Strike Businesses
11/06/18
Many small and midsize businesses fall into a false sense of security with regard to their disaster recovery plans. However, there is no coming back from a disaster if there isn't a plan in place to recover, or worse, earn back the trust of your clients. There are many common disasters that can affect a business and some may even be detrimental.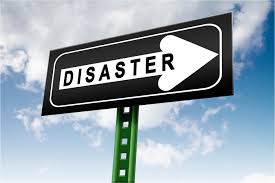 Here is a list of common disasters that can take down your business temporarily or *shudder* permanently:
Natural disasters: Considering we just closed out hurricane season, natural disasters and their effects on your business should be at the forefront of every executive's mind. Cloud backup and disaster recovery solutions let you backup your data to multiple locations, so if you're hit with a natural disaster or outage, your data is accessible and safe somewhere else.
Cyberattacks: Malware can create chaos for a small business. Whether its data theft, data corruption or permanent data deletion, a cyberattack could seriously compromise a business and its customers. Although deploying a firewall and security software is crucial, having a fallback continuity strategy in place in case cyberattacks breach your organization is critical.
Power outages: Power-related issues are not as uncommon as you might think. According to a 2014 survey by Eaton Electrical, 37 percent of IT professionals dealt with unplanned downtime due to power-related issues within the last 24 months. And a May 2013 survey by Aberdeen Group found the average cost of downtime for small companies was $8,581 per hour.
Software corruption: Permanent corruption of server data, such as corruption of the server's operating system or damage to line-of- business applications that run on the server, could lead to significant downtime. A study by CERN, the world's largest particle physics lab, revealed software corruption in 1 out of every 1,500 files. Software corruption could severely disrupt small businesses that do not have a backup and disaster recovery solutions in place.
Hardware failure: One of the most disruptive disasters that can strike a small business at any time is hardware failure. Any kind of hardware failure can result in the inability to access critical data. Failed hardware leads to downtime and lost productivity, which can cost a small business dearly.
The safest bet for disaster recovery solutions is cloud computing, and the Microsoft Azure Hybrid Cloud is invaluable for this purpose. Azure can make sure your applications are safe and sound in the event of a disaster with rigorous safeguards. 2W Tech is a Microsoft Gold Partner and has IT consultants on staff that can guide you through your Azure cloud deployment, if you're not in this hybrid cloud yet, and help you choose the services that are best for you. Contact us today to learn more about the disaster recovery solution that's best for you..
Read More:
Update Your Legacy ERP System Before It's Too Late
Economics of Serverless Cloud Computing
Interested in reading this article? Click the button below to download this asset.

Economics of Serverless Cloud Computing
Please complete the form to download the file.