The Top Reasons to Implement Epicor 10
12/05/18
It has been about four years since Epicor 10 was released. That means most of the bugs and errors have been eliminated from the update, which should give decision makers the peace of mind that upgrading to Epicor ERP 10 should be a smooth transition. There are many organizations just making due with their current Epicor ERP software. If you are one of them, time's up, you're long overdue for the upgrade. Get away from the inefficiencies and costs that come with your outdated ERP system. Epicor took huge strides with its product improvement when it released Epicor 10, and it's high time your organization reaps the benefits.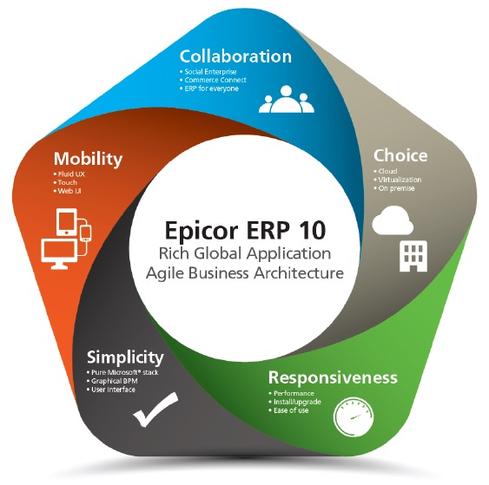 Here are some highlights of the upgrade:
Flexible deployment options: Epicor 10 offers traditional on-premise, cloud or hybrid cloud. Flexible deployment options allow your organization to choose which method and cost best fits your needs.
More standard features right out of the box: For example, Epicor 10 for Manufacturing now includes planning contracts, multi-job scheduling and a stock safety feature. The goal for Epicor was to increase standard features offered to help organizations cut down on customizations, therefore helping organizations increase their ROI quicker.
Increased performance: Epicor 10 comes with an improved user interface, quicker access to data, more streamlined business processes, more efficient transaction processing, greater responsiveness for web access users, and improved IT tools, making future installations and upgrades easy and efficient. There was also the addition of social collaboration features, allowing for speedier access to data from a variety of devices.
Increased simplicity: Epicor 10 is easy to use and streamlines business processes for improved organizational efficiencies. Improvements include "live tiles" or classic views, user role-based configurations and unique home page configurations. A user can now also access their most frequently used applications from the homepage, as well as reporting, dashboards and streams from Epicor Social Enterprise.
If you are in the market for an upgrade, or just want to discuss the pros and cons of using Epicor ERP 10 within your organization, let 2W Tech help. 2W Tech is an Epicor Gold partner and would be happy to help you maximize your ERP investment. Contact us today.
Read More:
Can Your Organization Recover From a Disaster?
Security Breach: Assume You Are Compromised
Economics of Serverless Cloud Computing
Interested in reading this article? Click the button below to download this asset.

Economics of Serverless Cloud Computing
Please complete the form to download the file.