Smart Manufacturing Reaches New Levels with Collaborative Creation
09/26/18
The key to the future of Manufacturing is collaborative creation and smart manufacturing. Manufacturers need to adapt themselves to ever changing customer needs, make new ideas a reality, and overall work more efficiently. They constantly struggle to overcome new challenges. In a perfect world, multiple companies can work together, complementing each other with internal and external strengths. This is not a new concept for technology companies. Connected factories are digitally connecting people, goods, equipment, and other elements and analyzing data in real time and analyzes production situations in detail. Collaboration can project errors or delays and seamlessly formulate measures to prevent incidents from occurring, making manufacturing sites operate efficiently and robustly.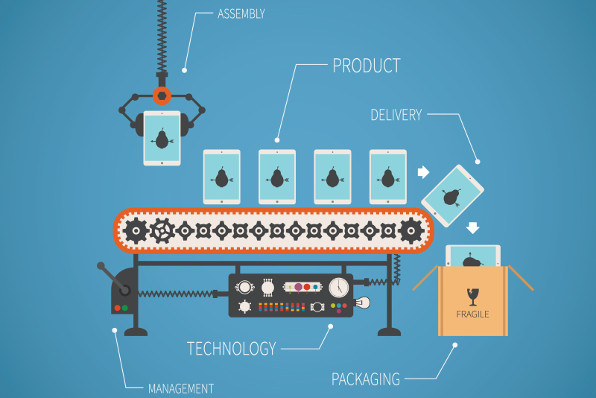 The digital transformation in the manufacturing industry has introduced trends that are helping the collaboration in the smart factory. IoT analyzes the links between all manufacturing processes. Big Data analysis and artificial intelligence in manufacturing environments helps simulation technology become possible. This helps optimize production planning by proactively preparing and responding to possible changes in the manufacturing environment. Artificial intelligence also helps improve productivity by preventing defects, precisely assessing changes or abnormalities with respect to workers, objects, or equipment that would otherwise be imperceptible to human eyes.
Many technology companies are going to continue to expand their offerings and mature their product lines in order to support the manufacturing evolution. IoT, big data, artificial intelligence are just a few manufacturing trends that will continue to shape smart manufacturing. 2W Tech is a full-service IT Consulting firm that specializes in Manufacturing solutions. Give us a call today and let us show you how the digital transformation can take your business to the next level.
Read More:
Be Sure to Avoid Critical ERP Onboarding Mistakes
IT Compliance: Added Protection Worth the Effort
Economics of Serverless Cloud Computing
Interested in reading this article? Click the button below to download this asset.

Economics of Serverless Cloud Computing
Please complete the form to download the file.