Offsite Backup Versus Cloud Backup
12/11/18
You know you need data backup, but how do you decide between offsite or cloud backup for your organization? Or, is it best to cover your bases and use a combination of the two? Reaching out to an IT consultant like 2W Tech is your best bet to get the guidance you need to make the best decision for your ROI. In the meantime, here is a guide to help you determine whether offsite backup or cloud backup works best for your organization.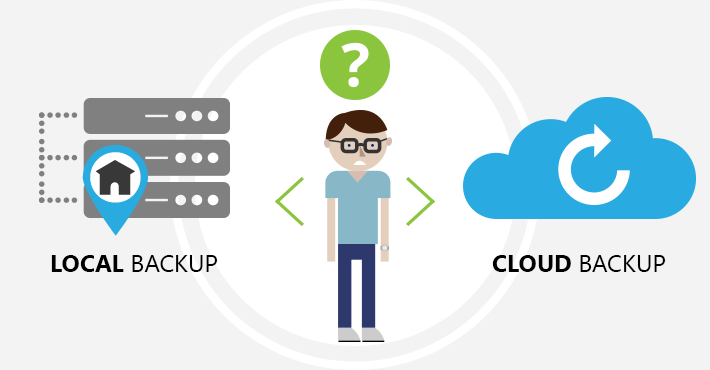 Offsite backup is a method of data backup using an offsite location as a means of securing the data in the event of a disaster. In the old days, this involved the use of magnetic tapes as well as other removable storage data. Today, however, offsite backup works by first encrypting the data, then compressing and transmitting it to an offsite security center. This data can then be accessed in the event of an emergency by using either the Internet or another data restore line. Many offsite backup service providers will offer additional features, including account management, over-the-phone support, central management for multiple data locations, as well as database and email backup.
The advantages of offsite backup include:
Your data is protected in the event of a disaster;
Backup operations can be performed automatically, leaving more time for productive tasks;
Cross-platform technology — in other words, backup can be performed regardless which operating system you use; and
Added security of data-encrypted network connections.
Cloud backup, on the other hand, is a strategy for backing up data that involves sending a copy of the data over a proprietary or public network to an offsite server. The server is usually hosted by a third-party service provider, which charges the backup customer a fee based on capacity, bandwidth or number of users. In the enterprise, the offsite server might be owned by the company, but the chargeback method would be similar.
Options for cloud backup services include backing up directly to the public cloud (via an infrastructure provider such as Microsoft Azure, backing up to a service provider, and cloud-to-cloud backup in Software as a Service (SaaS) applications.
The benefits of cloud backup include:
Reduced costs if the volume of data is low;
The cloud is scalable;
Managing cloud backups is simpler as service providers take many of the tasks required;
They are generally secure against ransomware attacks because they are performed outside of the office network.
Modern backup solutions make sense not only for offering better protection to your data at better prices, but also for the added features that can be beneficial to your business. 2W Tech has IT consultants on staff that specialize in security solutions and can help discuss what solution is the best fit for your organization. Give us a call today.
Read More:
Benefits to Using an ERP Consultant
IoT Initiatives Can Skyrocket Your Business
The Right Secure Hardware for your IoT Deployment
Enjoyed reading this article? Click the button below to download this asset.

The Right Secure Hardware for your IoT Deployment
Please complete the form to download the file.