Microsoft Azure Backup for SQL Saves You from Disaster
10/10/18
A disastrous breakdown of your IT infrastructure and related loss of data could prove catastrophic for your organization's success and profitability. With Microsoft Azure Backup for SQL, you can have peace of mind knowing you have the might of Microsoft backing up your data just in case the unthinkable happens. Azure Backup for SQL is a workload backup capability built as an infrastructure-less, pay as you go service that leverages native SQL backup and restore APIs to provide a comprehensive solution to backup SQL servers running in Azure IaaS VMs.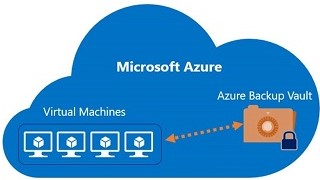 The benefits of Azure Backup for SQL include:
Zero-infrastructure backup — this gives you the freedom from managing backup infrastructure or writing complex backup scripts.
Centrally manage and monitor all backups using Recovery Services Vault — You can create policies to specify the backup schedule and retention for short- and long-term retention needs using grandfather-father-son style retention schemes. You also can configure email notification for any backup or restore failure as well as monitor the backup jobs using the Recovery Services Vault dashboard.
Restore to any time, up to a specific second — Azure Backup provides a graphical overview of the recovery point availability for the selected date, which will help users choose the right recovery time.
15-minute Recovery Point Objective — You can configure transaction log backup every 15 minutes to meet the backup SLAs needs of the organization.
Native SQL API integration — Azure Backup uses native SQL APIs so customers get the benefit of SQL backup compression, full fidelity backup and restore including full, differential and log backups.
Support for Always On Availability Group — Azure Backup protects databases in an Availability Group such that data protection continues seamlessly even post failover while honoring the Availability Group backup preference.
Let 2W Tech show you how Microsoft Azure Backup for SQL can save the day with disaster recovery. We are a Microsoft Gold Partner, and we have IT consultants on staff who are Microsoft Certified experts who can guide you through your Azure cloud deployment, if you're not in this hybrid cloud yet, and help you choose the services that are best for you. Contact us today.
Read More:
U.S. Manufacturing is Thriving Despite Shortage of Workers
Epicor's Material Management Reports and Module
Truly Consistent Hybrid Cloud with Azure
Interested in reading this article? Click the button below to download this asset.

Truly Consistent Hybrid Cloud with Azure
Please complete the form to download the file.