Master Your Production Management with Epicor
06/05/18
In today's challenging manufacturing industry, production and customer service are two essential factors companies must excel at to stay relevant. Epicor ERP helps manufacturers master those factors through a suite of production management tools that come with the software. Epicor manufacturing software offers easy-to-use production management capabilities designed to meet the needs of progressive make-to-order and mixed-mode manufacturing companies. Epicor understands that many manufacturers are complex businesses that defy categorization, often making complex products alongside more straightforward, repetitive ones. They require flexible and versatile software to accommodate combinations of make-to-order, configure-to-order, engineer-to-order and make-to-stock.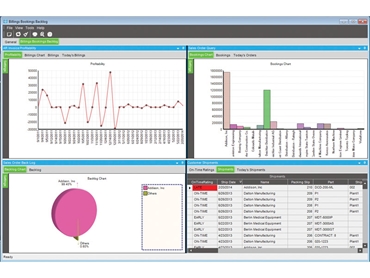 Epicor's production management software is complemented with supply chain management, supply chain execution and distribution capabilities, all delivered within a single business platform. Epicor manufacturing solutions include job and work order management, material requirements planning software, lean manufacturing, manufacturing execution systems, and master data management to answer all your production management needs.
Epicor extends its production management solutions with advanced quality management and product life-cycle management solutions to offer support for industry and regulatory compliance initiatives, measured quality, and concept-to-retire life-cycle management in support of reduced quality problems and improved cost control. They accomplish this while meeting standards designed for manufacturing and sustainability. Built using a service-oriented architecture, Epicor production management software enables continuous performance initiatives, mobile workers, real-time connectivity, social collaboration, and intuitive business intelligence, from the shop floor to your supply chain partner, to provide greater business agility and improved customer service.
This production management suite is best complemented with Epicor's ERP solution. Epicor offers true cloud deployment of Epicor ERP, providing companies of all sizes its feature-rich ERP solution on a simple monthly subscription basis. The cloud offering is functionally identical to Epicor's on-premises deployment option, providing you the opportunity to embrace the cloud on your own terms and to adapt your deployment model as your business or technical needs change.
Production management is an essential function for today's manufacturing businesses attempting to operate as lean and mean as possible. Epicor ERP's production management tools can help you make your operations as efficient as necessary. 2W Tech is a certified Epicor ERP partner and employs experts in ERP implementation and maintenance. Contact us today for help with your production management needs through ERP.
Read More:
Does Your IT Disaster Recovery Plan Exist?
Cognitive Computing on the Rise in Manufacturing
Choosing the Right ERP Solution to Support a Global Business Whitepaper
Enjoyed reading this article? Click the button below to download this asset.

Choosing the Right ERP Solutions to Support a Global Business Whitepaper
Please complete the form to download the file.