High Cost of Delaying an Epicor Upgrade
05/08/18
Upgrading your Epicor ERP system isn't always the easiest thing for an organization. There is the ever-present learning curve that comes with an upgrade, and new versions of software could bring hiccups with it, as well. The cost of delaying an upgrade to your Epicor ERP system could cause way more harm to your operations long term. The potential cost in time and money from lost productivity and lack of efficiency could come back to bite your organization if you delay your upgrade for too long. Organizations often wait too long for their Epicor upgrade because they don't want to spend the money. It is hard for many C-level decision makers to look seriously at long-term investments because many don't truly understand the value the ERP system brings to their business. And they certainly don't understand the added-value that each new software release could add to their business.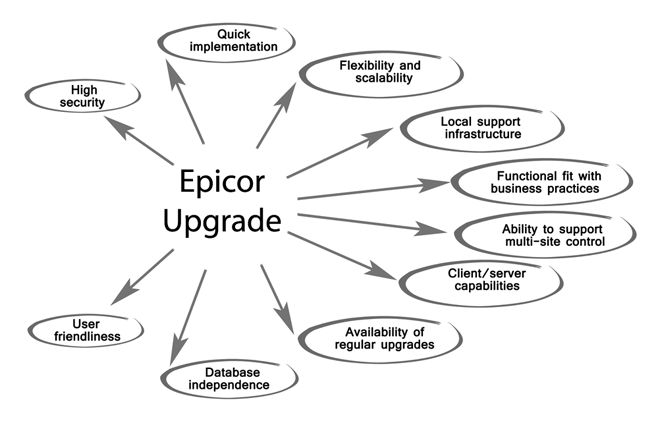 No matter the amount of stress involved with upgrading your Epicor ERP system, the pros always outweigh the cons. For those still stuck on Epicor ERP 9, Epicor is already released Epicor ERP 10.2.2, which means you have a lot of catching up to do. The benefits include enhancing your competitive advantage with a solid software upgrade program, improving efficiency and serving customers better with industry-driven solution. You can leverage cloud-enabled tools and services to minimize risk, effort and cost for your upgrade.
For those who haven't upgrade, here's what you're missing:
Improved performance: a simplified IT stack that is 100 percent Microsoft reduces IT overhead and can lead to greater performance and stability over older versions of Epicor ERP.
Connectedness: the ability to connect anytime, anywhere addresses the needs of today's mobile workforce.
Productivity: businesses look to upgrades to increase employee satisfaction and productivity as a result of workflow simplification.
Business assurance: reducing the risk of business disruption from costly, outdated technologies is essential since your business data availability of your ERP system are critical to your operations.
Global scalability: for those that sell and procure goods and services globally, staying current with global requirements is a concern. Staying current with various local standards is critical.
Cloud-ready:  Epicor ERP delivers on its ease of connectivity through its robust web services architecture and accompanying toolset.
Epicor has taken steps to give your organization the tools you need to excel at business.  It is now up to you to plan, implement and maximize the use of these tools within your organization. 2W Tech is a certified Epicor ERP partner and has experience with both Epicor upgrades and also with project management and training needed to maximize your system once it is installed.
Read More:
Do You Have a Business Continuity Plan?
Azure Offers Security for App Services
Best Practices for ERP Success Whitepaper
Enjoyed reading this article? Click the button below to download this asset.

Best Practices for ERP Success Whitepaper
Please complete the form to download the file.