Epicor Sales Management Tools Lets Your Salespeople Sell
07/31/18
Sales are what keep your organization in business, and your salespeople have to be engaged with current and potential clients at all times. There is plenty of data entry and paperwork that eats up their time, though, and whenever they're working on that drudgery, they're not selling your goods and services. Take that extra work away from your salespeople with Epicor's sales management solutions, which are available through Epicor's ERP system. Epicor sales management solutions can improve both the efficiency and effectiveness of your sales team. They help sales teams manage their opportunities and automate administrative tasks, allowing them to focus on building lasting profitable relationships.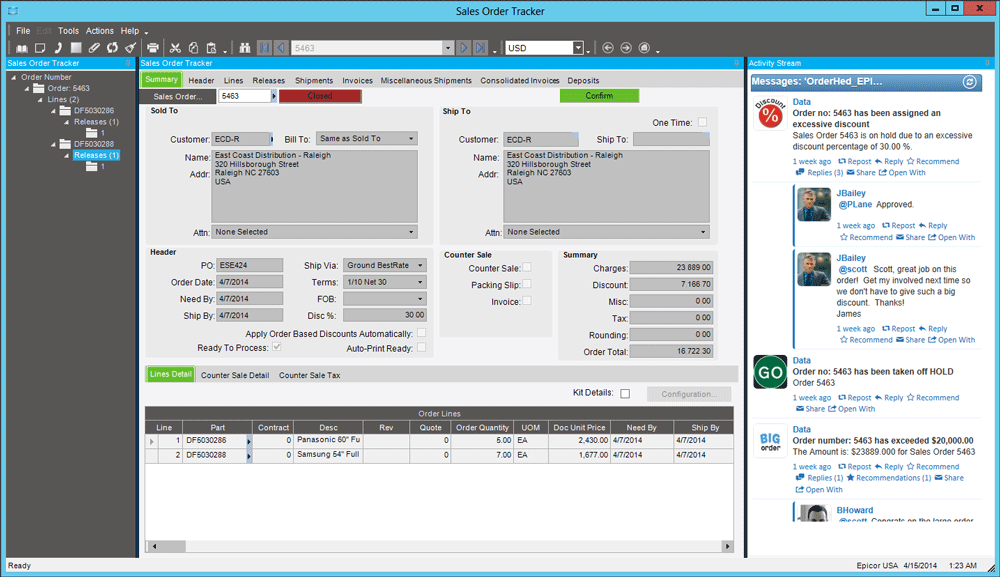 Quotes and sales orders enable the vital coordination of activities between your salespeople, warehouses and plants, shipping and accounting teams. They facilitate efficient management of accounts, shipping, invoicing and commissions. Epicor sales management provides the tools, including sophisticated product configuration, to produce accurate estimates, streamline your quote-to-cash cycle, calculate reliable estimates, and improve customer service. Combined with the implementation of sophisticated supply chain management software and an integrated warehouse management system, Epicor's sales management solutions can enhance the efficiency of your sales processes, end to end, so you can take full advantage of emerging opportunities.
By streamlining the sales process, centralizing access to product, pricing, pipeline, and customer information, orders can be generated with a minimal number of steps. This results in increased sales productivity through accuracy during the request for quotation and order process stage. Demand management responds to today's business conditions and incorporates the requirements of Electronic Data Interchange (EDI) to help your company reduce lead time for planning and procurement, enabling you to respond on the production floor faster. Demand management establishes contracts that can be linked to sales orders and releases to match each customer's unique shipping needs.
Epicor sales management moves beyond the demand side of EDI to also focus on the fulfillment side with secure outbound Advanced Ship Notice transactions that customers reconcile with each shipment. Through inbound EDI documents, the cumulative total value and actual received quantity is electronically sent back for reconciliation. Epicor sales management solutions and supply chain software deliver comprehensive SFA to help you perfect the order-to-delivery process for maximum customer satisfaction. Sales are far too important to let your sales staff get bogged down in minutiae. Give them the time and space they need to bring in new revenue for your operations. As an Epicor Certified partner, 2W Tech employs the experts you need implement Epicor's sales management software. We also can implement your Epicor ERP system if you're not already set up with one. Contact us today for assistance with your Epicor journey.
Read More:
Challenges of Manufacturing Compliance Management
Data Sync Anywhere in the World with Microsoft Azure
Top 6 Technologies SMB Manufacturers Can't Afford to Ignore Whitepaper
Enjoyed reading this article? Click the button below to download this asset.

Top 6 Technologies SMB Manufacturers Can't Afford to Ignore Whitepaper
Please complete the form to download the file.