Disaster Recovery as a Service Protection for Cloud Solutions
08/20/18
Disaster Recovery as a Service (DRaaS) is the replication and hosting of physical or virtual servers by a 3rd party to provide fail-over in the event of a disaster. Disaster recovery is now one of the cloud's leading workloads. With advanced capabilities and significant economies of scale, the cloud makes disaster recovery accessible to any size business.  A disaster refers to a complete halt of most or all of your systems simultaneously. You need to ensure your organization plans accordingly if a situation would occur where your systems went dark one day. Disaster hits everyone sooner or later but thankfully, the cloud and the internet combine to make recovering from system disasters easier and more accessible than ever.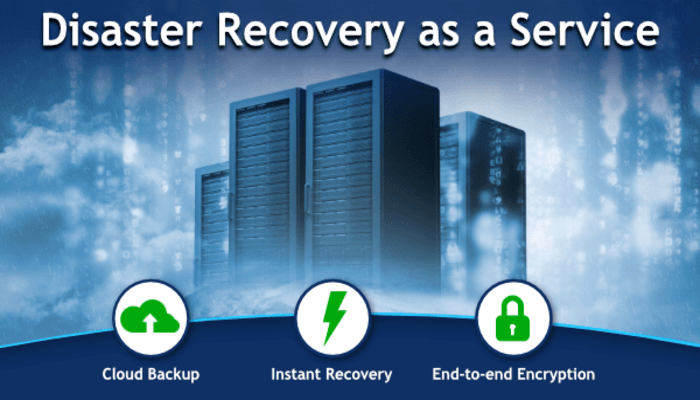 DRaaS is a great solution for small to mid-size organizations. Businesses that currently have a secondary site for disaster recovery purposes understand the high costs associated with it. This includes unavoidable investments in replication software and the required software licenses for servers, storage, and security, as well as a number of significant additional costs. Using a DRaaS solution eliminates these costs, making Disaster Recovery as a Service very attractive. Another selling point for DRaaS is it reduces the complexity of most disaster recovery solutions. Building a secondary disaster recovery site requires a large amount of hardware, as well as the maintenance fees and labor that it requires. Using a cloud solution eliminates your need for this secondary site.
DRaaS allows for disparate systems to be covered more easily than an on-premise solution. It also allows for coverage to be deployed in hours or days, vs. week or months. Because DRaaS is much easier and more affordable than do-it-yourself DR, many companies are able to protect all of their servers (physical and virtual) within a reasonable time frame and budget. To get started with a Disaster Recovery as a Service solution, give 2W Tech a call. We can introduce your organization to the Axcient Fusion DRaaS solution and help take your disaster recovery protection to the next level.
Read More:
Stay Connected with Skype for Business
Epicor Commerce Connect Makes Your Vision Become a Reality
Epicor ERP 10 Deployment Choices Whitepaper
Enjoyed reading this article? Click the button below to download this asset.

Epicor ERP 10 Deployment Choices Whitepaper
Please complete the form to download the file.