Be Ready for Anything with a Disaster Recovery Plan
11/13/18
Your IT system is the lifeblood of your organization. Everything you do runs through your IT in some way, shape or form. With that in mind, are you ready in case *gasp* a disaster strikes your IT system? To avoid too much downtime, be sure your organization has an IT disaster recovery plan in place. This should be developed in conjunction with your business continuity plan. Priorities and recovery time objectives for IT should be developed the business impact analysis. And technology recovery strategies should be developed to restore hardware, applications and data in time to meet the needs of business recovery.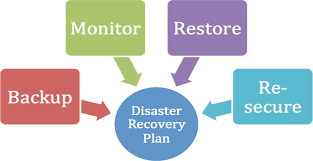 Businesses of all sizes create and manage large amounts of electronic information and data. Much of that data is important, and some of it is vital to the survival and continued operation of the business. The impact of data loss or corruption from hardware failure, human error, hacking or malware could be significant. When developing a disaster recovery plan, be sure to include strategies for networks, servers, desktops, laptops, wireless devices, data and connectivity. Priorities for IT recovery should be consistent with the priorities for recovery of business functions and processes that were developed during your business impact analysis.
Recovery strategies should be developed to anticipate the loss of one or more of the following system components:
Computer room environment
Hardware
Connectivity to a service provider
Software applications
Data and restoration
Many businesses have access to more than one facility. Hardware at an alternate facility can be configured to run similar hardware and software applications when needed. Also, there are vendors that can provide "hot sites" for IT disaster recovery. These sites are fully configured data centers with commonly used hardware and software products. Subscribers may provide unique equipment or software either at the time of disaster or store it at the hot site ready for use. Your IT disaster recovery plan should start with compiling an inventory of hardware, software applications and data. And the plan should include a strategy to ensure all critical information is backed up. Also, be sure to document the IT disaster recovery plan as part of the business continuity plan. Test the plan regularly to make sure it works. 2W Tech is a full-service IT Consulting firm that has Security experts on staff. Give us a call today for help with your disaster recovery plan.
Read More:
Increase Profitability with Epicor ERP
Total Economic Impact of Microsoft Azure IaaS
Interested in reading this article? Click the button below to download this asset.

Total Economic Impact of Microsoft Azure IaaS
Please complete the form to download the file.