Protect Your Business from Top Cybersecurity Threats
10/30/18
We're still a day away from Halloween, but business owners should be frightened by potential cyberattacks. During National Cyber Security Awareness Month, we have been looking at the ways cybersecurity threats could take down your organization and what you can do to avoid a catastrophe. In this blog, 2W Tech will review the top cybersecurity threats out there and how they could bring your business to its knees if you don't safeguard your IT systems.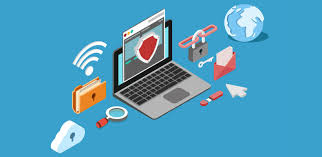 Cryptocurrency mining: Cybercriminals are infecting machines to commandeer their CPU power and steal Bitcoin. This is a very new threat, so plenty of organizations still have to protect themselves from cryptocurrency mining.
Phishing: Don't open that email from a Nigerian prince promising to share his inheritance if you reply with your bank account info. Countless breaches are caused by human error. Along with educating your employees, you need to defend your organization with technology, processes and people.
Ransomware: Since ransomware is a highly public threat, business pros feel pressure to respond to such security breach in a public manner. Make sure you're protected with firewalls and multiple layers of defense to avoid having to let the world know your data has been compromised.
GDPR: Just last week, Facebook received the maximum fine possible under GDPR for the Cambridge Analytica data breach, costing the social media network $645,000. The only reason the fine wasn't hire is because the breach occurred before GDPR took effect. Maintaining compliance with GDPR is a must for businesses of all sizes to avoid these massive fines, of course, but losing the trust of existing and potential customers could cost you even more in the long run.
The cloud: For all the good it does for an organization, there is still a perception that cloud-based cybersecurity threats can become a reality in the not-to-distant future. Cloud functionality is so new, however, that most threats have not been realized yet.
Making sure you check all the boxes for a cybersecurity plan can be overwhelming, and missing protection could cost you dearly. 2W Tech has a Cybersecurity Compliance Program and would be happy to assist your business with your cybersecurity initiatives. Give us a call today to get started.
Read More:
Importance of IT Asset Management
Epicor Signature Methodology Provides Hassle-free Deployment
Economics of Serverless Cloud Computing
Interested in reading this article? Click the button below to download this asset.

Economics of Serverless Cloud Computing
Please complete the form to download the file.