Future of the Manufacturing ERP Market
12/28/18
The manufacturing ERP market is expected to dominate in terms of revenue generation due to the increasing adoption of cloud solutions and increased focus on the big data and analytics. Manufacturers need to increase their activities and operate a broad scale of operations to remain competitive. This has led to the technological development by players in the manufacturing ERP market in order for them to remain competitive. An ideal system needs to aid the company in decision making, eliminate risk, reduce wastage, and lead to overall growth.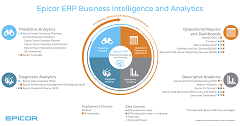 Increased usage of big data analytics is adding to the demands placed on the manufacturing ERP market. The shift toward a customer-centric business has led to rising applications of big data analytics, which is used in supply planning, output forecasting, and manufacturing process defect tracking. An organization will need to use ERP software for the greater flexibility and increased visibility into this critical data.
In addition to big data analytics, the growing adoption of IoT and automation in the manufacturing industry is also helping shape the future of ERP software. Data obtained from IoT devices is unstructured and extensive and too often unsecured. To accommodate the penetration of IoT technology, players operating in the manufacturing ERP market are developing their software to cater to client demands.
To sustain continuous growth in the marketplace, companies need to keep up the demands and emerging technologies. 2W Tech is an Epicor Gold Partner and has over 30 years experience with Epicor ERP software. Epicor specializes in Manufacturing solutions and has taken many strides over the last two years to position themselves as the leader in Manufacturing ERP solutions. Give us a call today to learn more about how Epicor can help your organization.
Read More: