Business Intelligence and Analytics for Epicor
04/29/20
Epicor has built business intelligence and analytics into its Epicor ERP software to help businesses answer four main questions: What happened? Why did it happen? What is happening now? What will happen next? Businesses need data to make informed decisions and there is no place that can provide all the necessary data except your ERP system.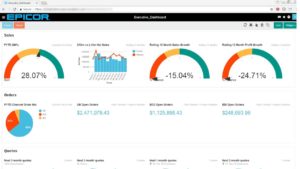 Business activity queries (BAQs) built into Epicor ERP drive reports, dashboards, and trackers to help you understand what is happening right now across your entire enterprise.  One of the cool features offered that answers the question of why is descriptive analytics. Each department can review its own data with self-summaries that are animated, interactive data visualization, and tools to simplify report creation and sharing.
To help answer the question of why it happened, Epicor offers diagnostic analytics. Epicor Data Analytics has the ability to take large data sets and with much speed an ease helps you narrow down until you can understand the why of the situation.
Predictive analytics helps your business understand what will happen next, using demand planning and inventory optimization tools in the Epicor Smart Inventory Planning and Optimization Platform. The Epicor Smart Inventory Planning and Optimization Platform is a set of cloud-based applications that help drive sales and inventory operations planning.
The ERP system is the heart of every organization, but it can only be the lifeline of your business if you take the necessary actions to reap the benefits it can offer you. 2W Tech is a technology service provider and Epicor Gold Partner. Give us a call today to learn how to maximize your Epicor ERP system.
Read More:
Factors Influencing Industry 4.0
ERP Sustains Manufacturing During COVID-19