Benefits of SaaS ERP
05/15/18
With Epicor, the SaaS ERP model makes it easy to innovate, launch and upgrade. Epicor incorporates customer-proven best practices into its solutions to drive and extend business value. Epicor believes in going beyond the pros and cons of cloud ERP and helping clients assess fit and total cost of ownership. Advantages of cloud ERP include:
Lower capital requirements to access innovation: SMBs often choose cloud to access world-class software without the capital constraints of onsite systems.
Better and faster scalability: Epicor Cloud ERP solutions are scalable and flexible, allowing you make changes to your business without major effort or investment.
Automatic upgrades: Customers find it much more cost-effective to let Epicor manage updates and system administration. Epicor includes it as part of each cloud subscription.
Fewer infrastructure costs: Customers will no longer have to worry about their servers' physical security or replacing them every three years.
Trim operational expenses: Consider the cost of electricity, cooling systems, backup systems and remote-access technologies. Running your ERP system on-premise can add up fast.
Dramatically shorter deployment times for better ROI: Epicor is ready to start implementation within 72 hours of your decision to start. The necessary infrastructure is already in place.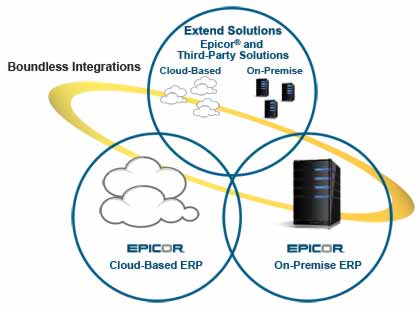 Epicor Cloud ERP is developed specifically for small and mid-sized businesses and is delivered in the SaaS model. Epicor specializes in solutions for the manufacturing industry, so it makes sense that Epicor is making a big push for Cloud solutions. Manufacturers are leaning toward Cloud ERP solutions because they can help streamline business administration and optimize operations while reducing costs. If you are interested in Epicor Cloud ERP, contact 2W Tech today and let us help you decide if this solution and deployment option are the best fits for your organization. As a certified Epicor ERP Partner, 2W Tech can guide your cloud journey from implementation through ongoing maintenance.
Read More:
Is Your Anti-virus Giving You a False Sense of Security?
Microsoft Azure Containers Keep Your Organization Efficient
Best Practices for ERP Success Whitepaper
Enjoyed reading this article? Click the button below to download this asset.

Best Practices for ERP Success Whitepaper
Please complete the form to download the file.