2W's Epicor Report Store Caters to Every Business Need Imaginable
09/20/19
Here at 2W Technologies, we realize that no two companies are the same. That's why through our Epicor Report Store, we can customize reports based on your organization's unique processes and workflows. If you don't like the reports your Epicor ERP system is producing for you, 2W Tech can rectify that.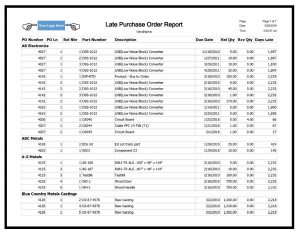 Depending on your needs, you may require a completely custom report that caters to your business. However, sometimes all that's needed is a tweak or two to an existing report, and 2W can handle that as well.
Take our purchase order, for example. The standard version has extra white space in the header address section. The extended line price is not displayed, and if you have multiple miscellaneous charge lines, the description of the charges are repeated on each line of the purchase order. Also the purchase order line subtotal is multiplied by the number of miscellaneous charge lines.
For the 2W Epicor Report Store's improved purchase order, we have removed the white space, extended the line price, removed the duplication of miscellaneous charge descriptions and properly display the purchase order line subtotal.
Don't let boilerplate forms keep you from maximizing your ROI in the latest edition of Epicor ERP. Contact 2W Tech today for the latest reports available in our Epicor Report Store, or work with us directly to customize a report that best suits your operations. 2W Tech is an Epicor Gold Partner and has expert consultants on staff prepared to help you maximize your ERP investment.