Virtual Failover in the Cloud
09/05/18
Failover, by definition, is a backup operational mode in which the functions of a system component are assumed by secondary system components when the primary component becomes unavailable through either failure or scheduled down time. A single point of failure is a part of a system that if it fails will stop the entire system from working. One of the hardest, but yet most important things to do when building your cloud architecture, is to eliminate Single Point of Failures. This means that every mission critical service should be able to survive an outage of any given server. Failover to a remote location is a mature technology, there is nothing new about it. Same holds true for cloud storage. But when users want to failover their virtual environments to the cloud, they can face a few challenges.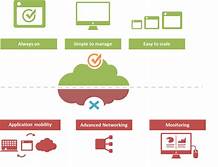 Cloud failover is much more than replicating backup to the cloud for recovery at a later time. The failover process uses the cloud as a secondary disaster recovery site. Standby servers take over the processing of a failed virtual machine environment for uninterrupted application performance, then fails back to the primary data center when the event resolved. Virtual machine architecture allows users to avoid the issue of maintaining identical hardware in the secondary data center, which is the big advantage of using a cloud-based disaster recovery. Virtual failover gains you near-infinite scalability.
Bandwidth becomes an issue when using cloud as a disaster recovery site. Virtualized data centers capture many snapshots of data and that quickly eat away at storage space. Security and availability are 2 other issues you need to be aware of. Securing backup data in the cloud is important; securing and accessing production data is even more important. You need both reliability and availability: reliability in that your cloud provider isn't going to lose your data; availability in that you can access your data when you need to. You can"t afford to sacrifice either of these things.
Given all of its attendant issues, is cloud failover worth researching and investing in? For many companies, the answer is yes. However, if you have a remote disaster recovery setup that is working for you there may not be a need to abandon it. For instance, in the rare case your company owns multiple data centers and have replication and disaster recovery setup between them. However, even then, IT might consider testing cloud-based disaster recovery in a virtualized server environment. Virtual networks are growing very quickly and they can process a lot of data. The scalability of the cloud offers real advantages in these specific environments. Like with most technologies, you have plenty of options when it comes to how to execute. However, do not attempt a virtual failover in the cloud without an experienced Security solutions provider to walk you through the options. 2W Tech is a full-service IT Consulting firm that specializes in Security solutions and would be happy to guide you through your virtualization journey. Give us a call today.
Read More:
Epicor ERP Provides Growth Opportunities For Businesses
Microsoft Office 365 Teams Makes The Dreamwork
Economics of Serverless Cloud Computing
Interested in reading this article? Click the button below to download this asset.

Economics of Serverless Cloud Computing
Please complete the form to download the file.