Understanding the Digital Supply Chain
09/14/23
A traditional supply chain is the progression of goods and services beginning with sourcing materials, through manufacturing, distribution, and finally the point of sale. The pandemic exposed supply chain capabilities gaps. Many supply chains have been too slow to react and are still developing physical capabilities required to compete today. Many organizations are feeling the pressure to digitize their supply chain so they can develop, test, deploy and scale digital innovations effectively.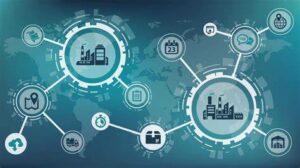 A digital supply chain leverages digital technologies and data analytics in decision-making and optimizing ultimate performance. Given its capabilities, it is no surprise digital supply chains are expected to grow. According to Allied Market Research, the global digital supply chain market value is projected to reach $13.7 billion by 2030, a more than three time increase from its $3.9 billion valuation in 2020.
Digital supply chains rely on data produced throughout the supply chain to plan effectively and keep the supply chain running with minimal delays. It gives an organization greater control over how they plan, manage, and organize every step of their manufacturing and logistics. It offers increased personalization, greater flexibility, and improved planning abilities. It is the result of the application of electronic technologies to every aspect of the end-to-end supply chain.
When confronting any new problem or challenge, see how technology can help. A digital supply chain would replace paper! It would eliminate all manual data entry and eliminate the need to request information, since you would have real-time data at your fingertips. It includes application of tools such as artificial intelligence, big data, and predictive analytics to name a few.
Where is your business at with your journey to a digital supply chain? It is not something that happens overnight, and a solid plan is necessary. That is where 2W Tech comes in. Our team of expert IT Consultants can work with your business and start developing a plan to adopt the necessary technical capabilities and solutions needed to transform your supply chain. Give us a call today.
Read More: