Copilot in Power BI Coming Soon
06/06/23
Microsoft recently announced Power BI will be getting an infusion of artificial intelligence. Just on the heels of the announcement of Microsoft 365 Copilot Early Access Program, it is now Power BI's turn to integrate Copilot. Copilot in Power BI is now in preview.
Power BI is Microsoft's suite of business analytic tools that allows users to analyze data and share insights. Integrating artificial intelligence into that, is going to make this already powerful toolset, even more so.
Once Copilot in Power BI is generally available, customers will be able to use conversational language to ask questions of their data, create reports and calculations, and creative narrative summaries. It combines advanced generative AI with data, allowing for the discovery and sharing of quick insights.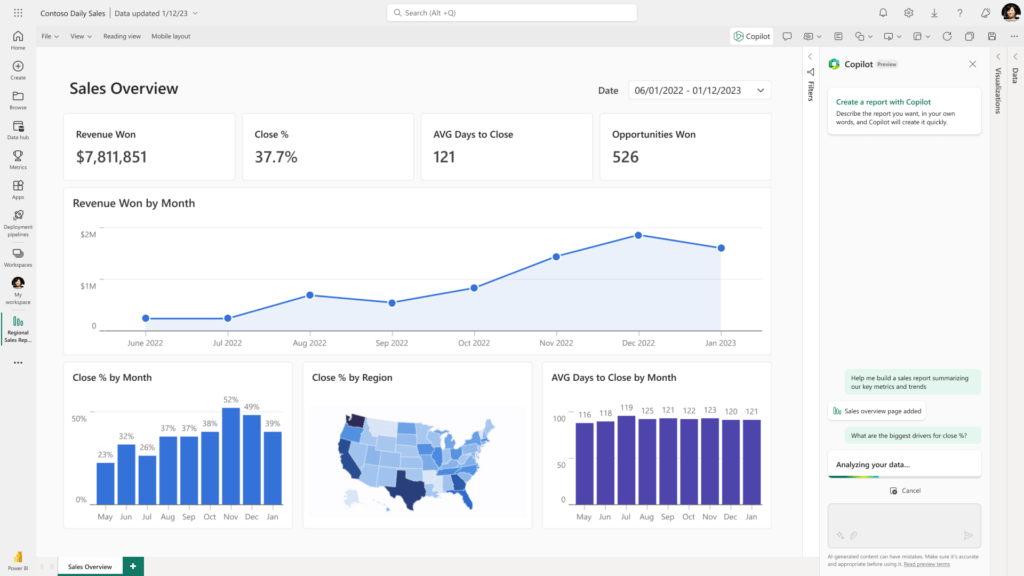 A user can simply ask a question or give a description of what insights or visuals they need, and Copilot will analyze and pull the correct data into an easy-to-read report or text summary. A user can tailor the tone, scop, and style of narratives and add them easily within the reports.
There is no set public release date for Copilot in Power BI yet.
2W Tech is a Microsoft Tier One Cloud Solutions Provider and holds several solutions designations as well. Give us a call today if you want to start exploring the benefits of Microsoft Power BI.
To learn more about the recent release of Microsoft 365 Copilot, you read about it on Microsoft's blog.
Read More:
Exciting Changes for Microsoft Edge