Microsoft Teams Phishing Scam
05/04/20
Microsoft Teams daily active users jumped from 44 million to 75 million across the last 2 weeks of March. Zoom has been criticized lately for being victim to countless security breaches, so it was just a matter of time until hackers turned their attention to Teams. Security researchers have observed thousands of cloned Microsoft Team login pages being used to harvest account passwords.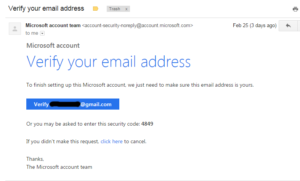 50,000 users have been exposed to this attack as of May 1, making it a huge threat. This comes at precisely the right time to fool already stressed and somewhat disoriented workers. This new attack is very professional looking, as the landing pages that host both attacks look identical to real web pages, and the imagery used is copied from actual notifications and emails from the same provider.
The phishing campaign adds an extra level of sophistication thanks to the use of several URL redirects to hide the hosting addresses and avoid email protection services. If the victim clicks on a link in the malicious email, they are taken to what appears as a new Microsoft login page. However, entering account details on this page will lead to the information being stolen.
COVID-19 is already causing enough panic in households and businesses over the world and the last thing we need is something more to worry about. However, cybercriminals thrive on our fear, when people are scared, they unfortunately become easy targets. Please ensure that all security features of Microsoft 365 are turned on and that you have additional backup and disaster recovery solutions in place. It is also very important to make sure every user in your organization understands how important security is and that they are taking all the necessary steps to protect themselves and your business from outside threats.
2W Tech is a technology service provider, specializing in solutions for the manufacturing industry. We are a Microsoft Gold Partner and have IT Consultants on staff that can work with your organization to ensure you have all the proper security solutions in place for Microsoft 365. Give us a call today.
Read More:
Best Uses for Artificial Intelligence in Smart Manufacturing
GDPR Levies Heavy Fines Against Violators