Benefits of Managed Print Services
10/31/18
Printing is an essential function for any business, but every business approaches how they go about it differently. Choosing a print solution that complements your organization's needs and employee work requirements is very important.  It affects your bottom line, as well as overall productiveness. The majority of businesses don't track their printing costs and most IT departments report they spend about 20% of their time fixing printing issues. To put that in perspective, an IT employee spends 1 full day out of a 5 day week fixing printing issues. Managed print services is a program offered by print providers that manage all aspects of your business printing devices, including printers, scanners, faxes and copiers. But, it's not the only option for businesses.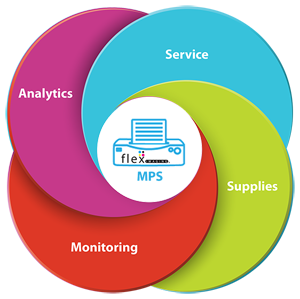 Managed print services gives you access to an expert in a print environment for optimization and management. This gives you the convenience of printing equipment that's right for your environment, as well as the ongoing support, maintenance and management.  Managed print services are services offered by an external provider to optimize or manage a company's document output. The main components provided are needs assessment, selective or general replacement of hardware, and the service, parts and supplies needed to operate the new and/or existing hardware. Your managed services provider also tracks how the printer, fax, copier and MFP fleet is being used, the problems, and the overall performance for the business.
Here are some benefits using Managed Print Services can offer your business:
Analyze your printing needs
Reduce local printers
Streamline printer replacement
Replace inefficient devices
Automated supply delivery
Gain predictability
Train employees
Manage remote printing
Managed Print services is a partnership that enhances a business' ability to manage their printing environment more efficiently. If you want to learn more about its capabilities, give 2W Tech a call today. 2W Tech is a full-service IT Consulting Firm that specializes in Managed Services solutions. We are proud to be an Epicor Gold Partner that offers Managed Print Services through their ERP software as well.
Read More:
Protect Your Business from Top Cybersecurity Threats
Importance of IT Asset Management
Economics of Serverless Cloud Computing
Interested in reading this article? Click the button below to download this asset.